Mogwai Lashes Out At Brits, Other Musicians, Bad Reviews, Random Passersby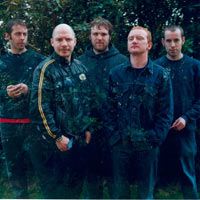 Mogwai
presents an interesting case study in responding to criticism -- really, in responding to anything a band doesn't like. Take The Brits, for instance. If a band thinks those awards are not a particularly legitimate enterprise, they can ignore them, pretend to like them, or be a bit diplomatic about it ("Well, you know we sort of take The Brits in particular with a grain of salt, but awards shows are really about fun anyway, and I'm sure this one will be no exception."). Or they can take
the Mogwai road
.
In a post on the band's message board, Barry Burns (guitar, flute, keyboards) gave Kaiser Chiefs a few relatively mild words of criticism ("the Kaiser Chiefs won best 'rock act' which is just mental. They're not a rock band. (I met one of them in Japan and he was lovely, if a little scared by my over-affable-drunkness but they're no rock band). James Blunt and Coldplay's Chris Martin did not fare as well. Perhaps they did not once meet Burns in Japan, or they did, but were not lovely and/or were excessively scared of his "over-affable-drunkness".
The Brits themselves seem to be the target of Burns'
strongest ire
. He writes:
"We all know that the winners are discussed between the big major labels and they decide who'll get the honours that year. Before you dispute this, we know, we've been told by one of them. What a waste of everyone's time and money."
Although if anyone did want to dispute either that or his saying "I have spewed blood down dirty toilets with more talent than" James Blunt, he need merely point to his website's
disclaimer
:
"Disclaimer: Seriously, if you are easily offended or don't like opinions then please leave this site now. We will not be held responsible for our own views or the views of anyone else who writes words on these pages. It's all a bad joke and you're the punchline. Seriously, as soon as you go further than this page, it's all your problem. Seriously."
They say "seriously" three times, so you know they mean it. Seriously.
As for Mogwai's reaction to criticism, we again hear from Burns. It's very subtle but he seems to rely on humor, in particular sarcasm, to convey his disdain for negative reviews.
In
responding to NME's dis
of the single "Friend Of The Night", he wrote: "NME, the relevant newspaper for serious music fans. News: we are as ground breaking as Snow Patrol according to the NME... Literally hundreds of people now have a negative impression of our new hit single before it's even out yet. How can we win in this situation? Damn it!"
Burns also
responded at length to FHM
after a particularly dismissive review of their forthcoming album,
Mr Beast
:
"Oooof. Just seen a review of ours from FHM magazine regarding our new album. It's a right stinker but I feel I need to review-the-review and the magazine to even things up...

"Firstly, they refer to Stuart as the 'oh so clever Scottish dwarf'. I can state right now that Stuart isn't clever at all. All Scottish people are dwarves because of the low sky. He (the reviewer) then opines that hardcore Mogwai fans will go onto Amazon and leave it five stars. I doubt if any of our hardcore fans can even type, never mind write a five-star review with a fancy computer on an 'internets'.

"Next big giveaway that he hasn't even heard the album was the fact that he heard strings on the album. Perhaps he enjoys to smoke a crackpipe but I don't recall their being any hint of violins or their owners in our studio. Know your subject. Apparently we make Radiohead sound like the Cheeky Girls. Boom Boom! Surely that's a compliment coming from a New Man who probably wears a handbag and has every Cheeky Girls song on his pink iPod Nano.

"But the biggest kick in the balls for the guy who wrote it was the fact that the he clearly just hates our music (and fair enough, not many folk like the miserable shite we release), but his editor clearly thinks we're okay. The review looks like a 0 out of 5 but instead gets a 2 which is actually not too bad considering the 'Tracks to Download' section said 'None' and the 'Mood to Listen' was 'Suicidal'. What a great use of 17-year-old boys' time this magazine is. If I was the editor of FHM I'd be dead against putting even a shit review of an ugly instrumental band from Scotland in my magazine. They need to stick to the Scissor Sisters and rude pictures of young ladies with articles on how to date rape at the weekends.

"Perverts. Dirty perverts."
UK bands seem particularly inclined to verbally pummel each-other. Even Burns' reactions to reviews contain arguably gratuitous (albeit sometimes funny) attacks on other bands. He seems unable to stop himself from responding to reviews, and it's a healthier outlet for anger than physically pummeling people in other bands (or critics). A lot of his humor is clearly self-deprecating, and the FHM review sounds like it deserved to be criticized for many reasons. If he can't have a thick skin, a healthy dose of sarcasm and a computer might feel like the next best thing...
On Monday, a
live version of "Glasgow Mega Snake" will be available for sale
at digital retailers. Video footage will be available at
7Digital
. There's also plenty of
audio
and
video
available at the band's website for free.
A Dizzying Amount of Mogwai Tour Dates:
March 1 - Chicago, IL - Logan Square Auditorium
March 2 - Columbus, OH - Wexner Center for the Arts
March 3 - Lexington, KY - The Dame
March 4 - Charlottesville, VA - Satellite Ballroom
March 6 - New York City, NY - Avalon
March 7 - Baltimore, MD - Sonar
March 8 - Chapel Hill, NC - Cats Cradle
March 9 - Asheville, NC - Orange Peel
March 10 - Nashville, TN - Mercy Lounge
March 11 - Atlanta, GA - Whirly Ball Atlanta
March 12 - Atlanta, GA - Whirly Ball Atlanta (matinee)
March 14 - Houston, TX - Numbers, with Torche
March 15 - Austin, TX - Stubbs, with Belle and Sebastian, Cat Power (at South by Southwest)
March 17 - Mexico City, Mexico - Venustiano Carranza 25
March 29 - Bristol, UK - Bristol Academy
March 30 - Southampton, UK - Southampton University
March 31 - Wolverhampton, UK - Wulfrun Hall
April 1 - Oxford, UK - Brookes University
April 2 - Cardiff, Wales, UK - Coal Exchange
April 4 - Cambridge, UK - Junction
April 5 - Liverpool, UK - Carling Academy
April 6 - Newcastle, UK - Northumbria University
April 7 - Sheffield, UK - The Plug
April 8 - Lille, France - Splendid
April 9 - Strasbourg, France - Laiterie
April 11 - Toulouse, France - SDF
April 12 - Clermont-Ferrand, France - Cooperative de Mai
April 13 - Paris, France - Bataclan
April 14 - Rotterdam, Netherlands - Motel Mozaique Festival
April 15 - Cologne, Germany - Live Music Hall
April 16 - Brussels, Belgium - Domino Festival, Ancienne Belgique
April 18 - Florence, Italy - Flog
April 19 - Rome, Italy - Qube
April 20 - Milan, Italy - Rolling Stone
April 21 - Treviso, Italy - New Age
April 22 - Krems, Austria - Danube Festival
April 23 - Munich, Germany - Elserhalle
April 24 - Berlin, Germany - Postbahnhof
April 25 - Hamburg, Germany - Gruenspan
April 27 - Edinburgh, UK - Triptych, Usher Hall
April 30 - Indio, CA, USA - Coachella Festival
September 22 - London, UK - Royal Albert Hall
Mogwai - Folk Death 95
(from
Mr Beast
)