Oasis Realize Selling Out Is Profitable, Decide It's OK After All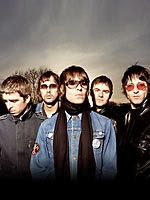 AT&T is using
Oasis
' song "All Around The World"
to link the TV commercials in "the most aggressive campaign" in AT&T's history
.
While "All Around The World" may be mostly
"upbeat"
and definitely fits the company's stated theme "All Around The World", the ad agency folks will probably want to keep snipping out lines like this as they work on this yearlong campaign:
"Take me away 'cause I just don't want to stay
And the lies you make me say
Are getting deeper every day"
The spots hit the airwaves on New Year's Eve, but only now has word leaked of
how lucrative
this deal
is for Oasis
-- it's fetching the group either a million dollars, or a million pounds, apparently.
Oasis' big paycheck might not be raising as many eyebrows if
Noel Gallagher was less outspoken
. Then again, if Noel Gallagher was less outspoken, how would we recognize him?
In this instance, he's being accused of hypocrisy due to his criticism of Jack White's
writing a song for Coca-Cola
. At the time, Noel Gallagher said, "Jack White has just done a song for Coca Cola. End of. He ceases to be in the club." (I
knew
there was a club!)
He added, "He's supposed to be the poster boy for the alternative way of thinking. I'm not having that, that's wrong. Particularly Coca Cola, it is like doing a gig for McDonald's."
Possible differences that make Oasis' deal morally superior to Jack White's deal:
1) AT&T, better than Coke or McDonald's? It's a communications company, after all. Why, they bring people together! They don't give them cavities or empty calories!
2) Also, maybe the boys are getting free phone service for life, I mean, c'mon, how sweet would
that
be?
3) Oasis sold one of their songs rather than writing one especially for AT&T. Perhaps it's a song they didn't even like at this point.
4) Oasis are not the poster boys for alternative anything so they can be held to a lower standard.
5) After Jack White left the club, man... none of them knew what to think anymore. They all just gave up on that "alternative way of thinking" thing.
The guys -- at least some of them -- will still sometimes play without massive payments. Today, Noel Gallagher and Gem Archer performed some acoustic songs on
Dermot O'Leary's Radio 2
show.
Oasis is
on tour
through the end of March, but you'll probably have to pay to see them.
Oasis - All Around The World
(from
Be Here Now
and AT&T ads)
Lush - Hypocrite
(from
Ciao! - Best of Lush
)