The Redwalls To Tour With Oasis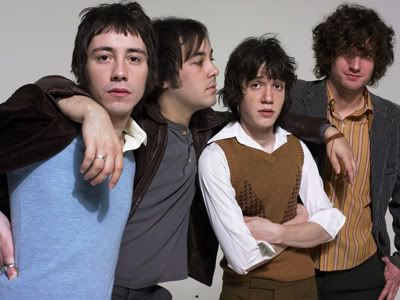 Chicago band
The Redwalls
, whose music
has been compared to the Beatles
and whose lineup includes a pair of brothers, has been
added as an opening act
for several
Oasis
concerts next month.
While at first blush the pairing might seem uncreative, I submit the following reasons why the selection may nonetheless be a wise one:
(1) The Gallagher brothers may not be the easiest blokes to get along with -- no, seriously. If choosing a support act with whom they have much in common increases the chances they will get along, this is A Good Thing. The guys may feel both less threatened and somewhat amused by Americans. They might even think "the Americans" have funny accents and use weird slang, although technically-speaking whilst on American soil Oasis' accents and slang may fairly be considered wackier.
(2) Fans who come to see Oasis are more likely to embrace a similar act.
(3) The Beatles comparison, while it's certainly true in Oasis' case, isn't automatically meaningful. It's pretty much a lazy rock critic's easy go-to. Maybe much rock music sounds somewhat like the Beatles in much the same way that all fiction writers are indebted to Shakespeare.
The Redwalls are scheduled to open for Oasis at
the following concerts
, with more dates to be announced:
March 22 - Milwaukee, WI - Riverside Theatre
March 23 - Indianapolis, IN - Murat Theatre
March 25 - Cincinnati, OH - Taft Theatre
March 26 - Nashville, TN - Ryman Auditorium
March 28 - Houston, TX - Verizon Wireless Theater
The Redwalls - On My Way
(from
De Nova
)
Oasis - Don't Look Back In Anger
(from
(What's The Story) Morning Glory?
)