The Cure Offers 4play to the UK First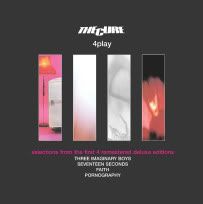 The Cure
have jumped on the trendy digital download train with their latest release,
4play, available to UK residents now, and to the rest of the world at the end of the month
. If a little perk like that can help folks in the UK feel special... maybe even make them forget for a moment about their soggy weather, it's okay by me.
So what can you expect from
4play
? The album title is embarrassing enough, so let's skip a "Seventeen Seconds" joke at the band's expense. The band, for the newly re-recorded songs on this album, is the "summer 2005 Cure trio" of Robert Smith, Simon Gallup, and Jason Cooper. They recorded new versions of "Three Imaginary Boys", "Seventeen Seconds", "Faith", and "Pornography", with original producer Mike Hedges at the helm.
Additional tracks from
Three Imaginary Boys
,
Seventeen Seconds
,
Faith
, and
Pornography
, as well as tracks from their deluxe edition bonus discs are also included. But, wait, there's more! There are four interviews with Robert Smith about the deluxe editions of those albums.
While The Cure and iTunes don't want the rest of the world's filthy money (yet), you can
read what UK residents have to say about the songs and about Robert Smith's interviews
(sample comment: "Not fair that US subscribers have to wait for this." Wait... here's another: "The Cure ruls!!!") I bet Robert Smith wrote that one himself.
The Cure - Three Imaginary Boys
(from
Three Imaginary Boys
, etc.)
The Cure - Seventeen Seconds (Live)
(from the deluxe edition of
Seventeen Seconds
)