Massive Attack Announces Best-Of Collection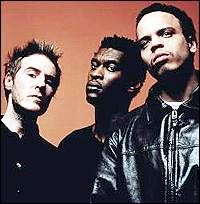 It's a little early to get excited about
Weather Underground
,
Massive Attack
's next new album. While they have
laid down the tracks for seven songs
for the album, which
Robert "3-D" Del Naja describes as having a "gothic soul direction"
, the group doesn't plan to release it until
next February
.
This is not to say that Massive Attack is waiting a year to release an album, or even new material. They've
announced the March (2006, that is) release of both a compilation album and a new single
. As always with these collections, neither a "greatest hits" nor "best of" description will feel accurate to everyone. Although anyone who feels that "Danny the Dog" is one of Massive Attack's greatest songs is certainly entitled to their opinion.
A special edition of
Collected
will include a bonus dual-disc: a CD with "rare and reworked" songs as well as new recordings. The other side will be a DVD including all of Massive Attack's videos. Interesting gimmick, though people may prefer a separate CD and DVD. That would be more convenient, although not as environmentally-friendly.
Collected
will be released (at least in the UK) on March 27. "Live With Me" featuring vocals by
Terry Callier
comes out there on March 13. The video has been directed by
Jonathan Glazer
, who directed the film
Sexy Beast
as well as several videos.
The timeline for these new releases is consistent with
recent rumors that Massive Attack will play Coachella in April
. The group does intend to
tour, including festivals "throughout the summer and autumn" this year
but there are no details yet.
The Track Listing For the Deluxe Edition of Collected:
Disc 1:
Safe From Harm
(from
Blue Lines
)
Karmacoma
Angel
Teardrop
Inertia Creeps
(from
Mezzanine
)
Protection
Butterfly Caught
Unfinished Sympathy
(from
Blue Lines
)
Risingson
Future Proof
Five Man Army
What Your Soul Sings
Sly
Live With Me
Disc Two - Side One (A Regular CD):
(*note the slightly tweaked song titles... apparently the new recordings*)
False Flags
Incantations
Silent Spring
Bullet Boy
Black Melt
Joy Luck Club
Small Time Shoot Em Up
I Against I
I Want You
Danny The Dog (*from the movie of the same name. Weird movie)
Disc Two - Side Two (A DVD with the group's videos):
Daydreaming
Unfinished Sympathy
Safe From Harm
Be Thankful For What You've Got
Sly
Protection
Karmacoma
Risingson
Teardrop
Angel
Inertia Creeps
Special Cases
(from
100th Window
)
Butterfly Caught
Live With Me
Live With Me (Terry Version)