Belle & Sebastian In-Store at Amoeba 3-20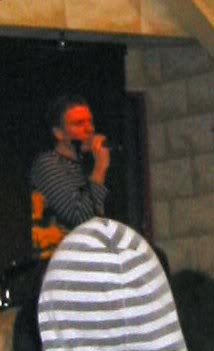 Belle & Sebastian
gifted Los Angelenos with a 5-song in-store performance at
Amoeba Music
today, playing mostly requests. However, many of the requests were rejected, prompting guitarist Stevie Jackson to chide frontman Stuart Murdoch, "You always ask requests and never do them." Murdoch was unphased: "I'm just compiling them." He said the problem was some of the desired songs required a piano, one of the few Belle & Sebastian instruments absent this afternoon. Still, several requests were granted, though Murdoch needed to borrow a copy of
Dear Catastrophe Waitress
for its lyrics (this is but one reason artists should include lyrics with their albums; they may be handy later). Just two songs from the band's latest album,
The Life Pursuit
were played ("Funny Little Frog", which opened the set, and the winsome "Sukie In the Graveyard"). The crowd was large, and apparently full of Belle & Sebastian fans; there was no need to win them over. The set was lively throughout, from a young "lassie's" granted request for "Dog On Wheels" to the bubbly "Sleep The Clock Around" and the closer "If You Find Yourself Caught In Love". The band started late, and had to leave "unexpectedly early", leaving some disappointed fans left with only pre-signed CD inserts (others could choose one item to be signed, for instance either a CD or the poster they received free with a
Life Pursuit
purchase). However, during the set Murdoch did express concern over the "water situation" in Los Angeles and promise to take care of it and build reservoirs if they ever move to Los Angeles, so we have that going for us, which is nice.
Belle & Sebastian Tour Dates:
March 21 - San Francisco, CA - Concourse (with the New Pornographers)
March 23 - Portland, OR - Roseland (with the New Pornographers)
March 24 - Vancouver, BC - Commodore Ballroom (with Rose Melberg)
March 25 - Seattle, WA - Paramount Theatre (with the New Pornographers)
April 30 Glasgow, Tramway
May 6 Paris, Bataclan
May 7 Ludwigschafen, Feirenbendahaus
May 8 Amsterdam, Paradiso
May 9 Brussels, AB
May 11 Cologne, E-Werk
May 12 Hamburg, Grosse Freiheit
May 13 Malmo, KB
May 14 Oslo, Rockefeller
May 15 Trondheim, Samfundet
May 17 Stockholm, Berns
May 18 Gothenburg, Tradgarn
May 19 Copenhagen, Vega
May 21 Berlin, Columbiahalle
May 23 Munich, Tonhalle
May 24 Milan, Rolling Stone
May 25 Modena, Vox
June 1st Osaka, Hatch
June 3rd Tokyo, Stellar Ballroom
June 4th Tokyo, Stellar Ballroom
June 7th Perth, Concert Hall
June 9th Adelaide, Thebarton Theatre
June 10th Melbourne, Forum
June 13th Sydney, Enmore Theatre
June 15th Brisbane, Tivoli
June 21st London, Wireless Festival @ Hyde Park
July 6 Los Angeles, Hollywood Bowl
July 14 Barcelona, Summercase Festival at Montjuic
July 15 Madrid Summercase Festival at Boadilla del Monte
August 13 Leicester, Summer Sundae festival
August 18 Salzburgring, Frequency Festival
Another Sunny Day
(from
The Life Pursuit
)