For Your Pleasure, Roxy Music Reunites to Record, Tour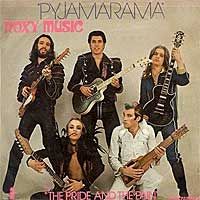 Bryan Ferry
has revealed that Roxy Music has been
"back in the studio for the first time for over twenty years."
All the original members of the art pop/glam rock group -- singer Ferry, saxophonist Andy Mackay, guitarist
Phil Manzanera
, drummer
Paul Thompson
, and keyboardist Brian Eno -- have been laboring on a new Roxy album, which is being produced by
Rhett Davies
and
Chris Thomas
.
Prior to the studio album's release, there will be a remix album
"in which various Djs and producers will be putting their own spin on Roxy and Ferry's back catalogue."
The group will also tour this summer, with a few
festival dates in Europe
scheduled at this point, and more dates expected to be announced later.
Roxy Music
began in 1971, and underwent a number of lineup changes
from the start. Bryan Ferry and Brian Eno were considered the group's primary creative forces, but
they wanted to take the music in different directions
. Ferry was interested in art pop and soul. Eno, who
had no music or music theory training
, but was extremely creative, wanted to pursue more experimental directions, and was interested in "deconstructing rock". He clashed with Ferry, who
would not record his work
, and left Roxy Music after a couple of albums.
The group announced a "temporary" break-up in 1976, which lasted two years. Paul Thompson
left the group in 1980 due to "musical differences"
. In 1983, the band split up. Manzanera and Mackay recorded together and pursued solo careers. Paul Thompson
worked on a couple of Concrete Blonde albums
and with many other artists, including Mackay.
Ferry and Eno have had (very different) successful solo careers, reflective of the contrasting directions they had in mind for Roxy Music. Ferry has frequently lent his elegant vocals to cover albums and songs. He's Eno is immensely inventive and original. He is
considered the "father" of ambient music and came up with the term
, used to describe music that can be "actively listened to with attention or as easily ignored, depending on the choice of the listener". It's not a competition, and both men have produced excellent work. If it
was
a competition, and it was about who was more prolific, Eno would likely walk away with it, particularly as one would have to consider his work as a producer (with Talking Heads, John Cale, U2, et al).
After leaving Roxy Music, Eno has also worked with... Bryan Ferry. While all the Roxy Music members haven't recorded together in many a year, Bryan Ferry and Brian Eno have recorded together much more recently, with the guys
writing and performing "I Thought" for Ferry's 2002 album,

Frantic
. Eno also played keyboards and sang backing vocals on another song on the album, "Goddess of Love". In 2003, when Ferry was asked
"whether there will ever be another Roxy Music album"
, he replied, "I don't think there will be another Roxy album." However, he had only praise for Eno, saying, "He's a great character, Brian." It was nice to work with him again."
Roxy Music Tour Dates:
July 5th and 6th - Vicar Street, Ireland
July 8th - The Werchter Festival, Belgium
July 9th - The Bospop Festival, Weert, Holland
July 21st - Lovely Days Festival in St. Polten, Austria
Roxy Music - Do The Strand
(from
For Your Pleasure
, etc.)
Roxy Music - Avalon
(from
Avalon
, etc.)
Brian Eno - Sky Saw
(from
Another Green World
)
Bryan Ferry - All Tomorrow's Parties
(Velvet Underground cover, from
Taxi
)