Knight Rider Movie On the Way, May Be Hasselhoff-Free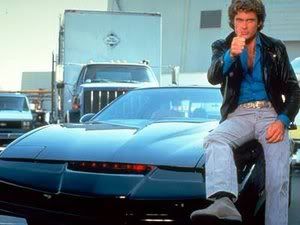 Although the official
Knight Rider website
hasn't been updated in over a year, on its homepage it forecast a heartwrenching report that
David Hasselhoff
has been
"axed" from the upcoming film adaptation of Knight Rider
. According to this mysterious report Hasselhoff even "begged" the show's creator Glen A. Larson for a part.
The Knight Rider webside quotes this snippet of dialogue from the original series:

Michael: "You know, you're about as much fun as a divorce ... which is not a bad idea."

KITT: "I want custody of me."
Given the nature of Hasselhoff's actual ongoing
divorce proceedings and the recently-resolved dispute over the custody of their children
, the dialogue is perhaps less "devilishly witty" this year than the SciFi channel found it last year.
Contrary to that report, Larson
won't say whether Hasselhoff will appear in the movie
. He also won't comment on whether William Daniels, the original voice of KITT, will be back for the film, or perhaps replaced by someone younger, with a voice either more bland, or funkier.
However, he was willing to
discuss the film's plot and tone
.
The Knight Rider flick will aim for "a darker tone" and will "probably have more gallows, foxhole humor" than the TV show, Larson says. The plot will stick to the show's premise of "a police investigator shot in the line of duty who is nursed back to health by a mysterious millionaire". To help the injured man continue to fight crime he's given a new face, a new car (
KITT
), and a new name ("Michael Knight" would at least help him blend in better than, say, "Ford Prefect"). Plus, he seeks vengeance on the guys who shot him, naturally. Maybe Hasselhoff could play one of those thugs.
What most people must be wondering, though, is, what about
KARR
, KITT's twin car, sometimes thought of as his "evil twin"? Larson's also developing movie versions of the TV shows Magnum P.I. and The Fall Guy. If he doesn't write KARR into Knight Rider, how can we have any faith in his ability to make sound choices about
those
movies?
Knight Rider Theme
(from
Television's Greatest Hits, Vol.6: Remote Control
)
David Hasselhoff - Hot Shot City
(from
The Very Best Of
)
While, I won't beg you, Hasselhoff style, to download "Hot Shot City", I do
strongly
recommend the track. If you download one song today, I suggest you make it "Hot Shot City". And while you're at it...
Let your hair down baby
and
party down until the morning light
They Might Be Giants - My Evil Twin
(from
Apollo 18
)
The Magnetic Fields - I Wish I Had An Evil Twin
(from
i
)