Uncut May Playlist CD & Best/Worst Songs About God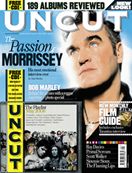 The Passion of Morrissey is the cover story of the May 2006 issue of
Uncut
. A single tear trails down Moz's left cheek. Both his blue eyes twinkle beatifically. The cheeky devils at Uncut have outdone themselves; it's a great cover. There are other details, but you get the idea. Some excerpts from the interview tomorrow.
Perhaps feeling inspired by the religious theme of Morrissey's photo shoot, Uncut has made lists of the best and worst songs about God.
The 10 best songs about God:
1. Elvis Presley - "How Great Thou Art"
2. George Harrison - "My Sweet Lord" ("Thou shalt not steal. Unless it's from The Chiffons")
3. The Clash - "The Sound Of Sinners"
4.
Kate Bush - "Running Up That Hill"
("Celestial Wife Swap with the wuthering witch")
5. Nick Cave & The Bad Seeds - "Oh My Lord"
6. Prince - "Temptation" ("So good the Lord Himself makes a cameo...")
7. Outkast - "God (Interlude)"
8. XTC - "Dear God" ("Anti-deity diatribe unlikely to make Pope's iPod")
9. Depeche Mode - "Blasphemous Rumours"
10. Bob Dylan - "Gotta Serve Somebody"
The 10 worst songs about God:
1. Bob Dylan - "What Can I Do For You?" ("God sure wasn't on His side when he penned this")
2. Joan Osborne - "One Of Us" ("If He was, thanks to this, He may wish He was deaf")
3. Van Morrison & Cliff Richard - "Whenever God Shines His Light"
4. Faithless - "God Is A DJ"
5. Siouxsie & The Banshees - "The Lord's Prayer" ("Seemed like a good idea at the time. So did Betamax.")
6. Chris Rea - "God's Great Banana Skin"
7. Paul Weller - "All Good Books"
8. Sinead O'Connor - "Guide Me God" ("Replace 'Guide' with 'So help'...")
9. Joni Mitchell - "God Must Be A Boogie Man"
10. The Police - "O My God"
Uncut: The Playlist May 2006 Track Listing:
1.
Band Of Horses - The Funeral
(from
Everything All The Time
. Well... this one is just a shimmering gem, isn't it?)
2.
Lambchop - All Smiles And Mariachi
(from the reissued album
How I Quit Smoking
. Unusual, perhaps a bit odd, and lovely)
3. The Charlatans - Muddy Ground
4. Calexico - Cruel
5. Lynyrd Skynyrd - Gimme Back My Bullets
6. Editors - Let Your Good Heart Lead You Home
7. Fairport Convention - Crazy Man Michael
8. Ronnie Spector - Here Today Gone Tomorrow
9. Japan - Nightporter
10. Tom Verlaine - The Earth Is In The Sky
11. Jose Gonzalez - All You Deliver
12. Faust - Just A Second (Starts Like That!)/PicnicOn A Frozen River/Deuxieme Tableaux
13.
Graham Coxon - Say So What
(B-side from the 7" vinyl version of "Standing On My Own Again". Pretty groovy)
14. Candi Staton - I'll Sing A Love Song To You
15. Bob Marley & The Wailers - Soul Shakedown Party
16.
Demin - I'm Against The Eighties
(from
Back In Denim
, and mistitled "Back In Denim" on Uncut's tracklisting. Fun song wishing for a return to the 70s and railing against the Me Decade's many shortcomings, like "bands that couldn't play" and Duran Duran, those "fake make-up boys". Complete with heavy synth and guitar, handclaps, and sense of humor)