(The) Infadels on Morning Becomes Eclectic Tuesday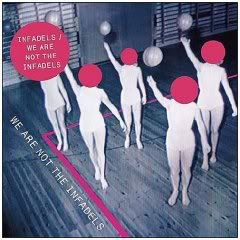 British dance-alt-rock group
The Infadels
will perform live on KCRW's
Morning Becomes Eclectic
Tuesday, May 2nd at 11:15 AM PST. You can also
listen to the entire show
after it airs, and
video and audio of the Infadels' appearance
will be available sometime after the show as well.
There's a fair amount of buzz surrounding the band and their album,
We Are Not The Infadels
. The band does, however, seem to have a hard time deciding whether they are "Infadels" or "The Infadels":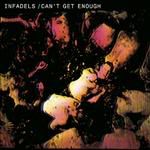 If you haven't heard enough from them to know much about their sound or whether you like it, just play music
Mad Libs
as follows:
To describe Infadels, for the next couple months, sound enthusiastic and say the following, inserting words from the (1), (2), (3), and (4) lists in the appropriate places:
"Hey, you should check out this __1__, __1__ group, The Infadels. They're kinda __2___ but __3__ and not __4__, y'know?"
1 - dancey, retro, 80s-ish, synth-rock, electric-rock, British, new, blog-endorsed
2 - gloomy, serotonin-challenged, "not all 'happy happy joy joy'"
3 - still fun, not
gloomy
gloomy, in a chirpy way
4 - She-Wants-Revenge-y
Then, in a couple months, say you loved them the first time you heard them, twenty years ago, and yawn.
(substitute "on an "80s music CD" if you are too young to make that line work)
(The) Infadels
Concert Dates
:
May 3 - West Hollywood, CA - The Key Club (for musexpo)
May 5 - Holland - Zwolle Festival
May 5 - Groningen, Holland - Groningen Festival
June 3 - Rodez, France - Skabazac Festival
June 4 - Landgraff, Holland - Pinkpop Festival
June 8 - Oxford Street, London - 100 Club
June 11 - Strongbow Tent, Isle Of Wight Festival
June 17 - Barcelona, Spain - Sonar Festival
June 22 - Spain - Santander Festival
June 24 - Belfort, France - Rock Dans Tous Ses Etats
July 1 - Belfort, France - Eurokeennes
July 2 - Denmark - Roskilde Festival
July 6 - Norway - Quart Festival
July 8 - Paris, France - Solidays
July 12 - Amsterdam, Holland - Paradiso
July 13 - Belgium - Dour Festival
July 14 - Grafenhainichen, Germany - Melt Festival
July 15 - Vienna - Nuke Festival
July 21 - Switzerland - Paleo Festival
July 23 - France - Vieilles Charrues
August 4 - Rennes, France - Louvigne Du Desert
August 5 - Cardiff - Big Weekender
August 6 - Dublin, Ireland - Hi-Fi Festival
August 12 - Saalburg, Germany - Sonne, Mond, & Sterne Festival
August 17 - Belgium - Pukkelpop Festival
August 18 - "Somewhere in the UK (it's a secret)" - The Secret Garden Festival
August 26 - Delft, Holland - Westerpop Festival
Infadels - Murder That Sound
(from
We Are Not The Infadels
)