The Wire June Tapper 15 CD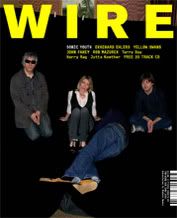 Sonic Youth
are on the cover of the June issue of British magazine
The Wire
. Their interview covers both expected territory (they don't know how much longer the group will continue) and more unusual ground (Lee Ranaldo disagrees with the suggestion that "surely" reprinting "throwaway record"
The Whitey Album
is "contrary to the concept and motivation of the album").
Also interviewed in this issue: drummer Terry Day, artist Jutta Koether, Yellow Swans, and Ekkehard Ehlers.
For the "Invisible Jukebox" feature, cornet player/electronic musician Rob Mazurek, listened to eight tracks and commented on them. He correctly guessed Massayuki Takayangi New Direction Unit's "My Friend, Blood Shaking My Heart" (from 1975) was Japanese, and identified Tom Zé as the artist on "Ogodô, Ano 2000".
"The primer" offers a guide to the work of guitarist John Fahey. Music, music books, music DVDs, and music films are reviewed, as are concerts and art exhibits.
The Wire Tapper 15
compilation is included with this issue.
The Wire Tapper 15
Track Listing:
1.
Humcrush - Hornswoggle
(available on
Hornswoggle
. The Norwegian duo of Ståle Storløkken and Thomas Strønen offer up a "hose-down of skewed systems-funk")
2. Leafcutter John - Let It Begin (Edit)
3. Machinefabriek - Somerset
4.
Reverbaphon - Nothing Beyond The Zero
(Pretty, distant, and slightly strange. The group consists of Scot Paul Smith and German Eva Cadario, who say they improvise "since you never have to practice")
5. Yannis Kyriakides & Andy Moor - Vamvakaris (Edit)
6. Jozef Van Wissem - Catoptromancy
7.
Hwyl Nofio - Broken Again
("Hwyl Nofio is Welsh for 'emotional swimmers', and is the name for an ever evolving ensemble around the central member of Steve Parry, who plays harmonic and disharmonic guitar... 'Broken Again' additionally features Gorwel Owen on 'imagined banjo'".)
8.
Giuseppe Ielasi - Untitled Track 4
(available on
Giuseppe Ielasi
. His second album for Swedish label Häpna, which calls it his "most complex work to date, both in regard to instrumentation and compositional form. A well-prepared decoction of dark cinema, wanderlust and experimental sound manipulating techniques.")
9. Gerritt And John Wiese - The Disappearing Act
10. Dub Trio - Illegal Dub
11. Izu - Get UR Fleece On
12. Mekon - GSE
13.
Lawrence English & Ai Yamamoto - A Silent Kouta (Edit)
(available on
Plateau
, on which "they create evocative and intricately textured sound passages masking location recordings taken around the world, especially in Yamamoto's home base of Nara in southern Japan.")
14. Herbert - Movie Star
15. Sol Seppy - 1 2
16. Trevor Watts - Solarsonic
17. Gricer - Land
18. Spooncurve - She Doesn't Know
19. Isnaj Dui - Catoctin (Edit)
20. Det Gamla Landet (The Old Country) - Kiruna