Ben Kweller Bleeds For Rock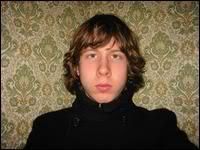 Ben Kweller
started his
Austin City Limits
set ten minutes late today, thanks to a nasty
double nosebleed, which caused a bloody, brief set
.
The plucky troubadour pledged to "do this until it gets too disgusting", MacGyvered first aid materials, and played on, despite "thoroughly splattering his guitar with blood". It apparently got too disgusting after Kweller's third song, "Falling", which he performed at the piano.
"Ladies and gentlemen, I think that's all I can take, you guys," Kweller told the crowd. "I'm really sorry. They say that Austin is the allergy capital of the world, but I never believed 'em."
He said he'd return, hopefully not before consulting the Austin
allergies forecast
and a good allergist.
Kweller has posted eight episodes of "One Minute Pop Song With Ben Kweller" on
his YouTube channel
, with the final episode to be posted on Monday. In the clips, he discusses the making of his latest album, which is already out in the UK and will be released on September 19th in the States and Canada. Its easy-to-remember title is
Ben Kweller
.
Ben Kweller - Wait
(available on
This Bird Has Flown: A 40th Anniversary Tribute To The Beatles' Rubber Soul
)