One-Hit Wonders (Are Temporary Things)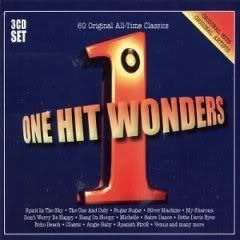 Today is
National One-Hit Wonder Day
in the U.S., though affection for the
one-hit wonder
isn't unique to the States.
Just this month, New Zealand music television station
C4
dedicated an episode of its program,
U Choose 40
to One Hit Wonders. A viewer poll on the C4 website
determined the 40 songs
. Viewers were given 60 options, though "write-in votes" could be sent via e-mail.
The Kiwis'
Top 5 One-Hit Wonders
:
1.
Karl Douglas - "Kung Fu Fighting"
(available on
Super Hits of the '70s: Have a Nice Day, Vol. 14
,
right-click to download
)
2. Nena - "99 Red Balloons"
3. Afroman - "Because I Got High"
4. The Archies - "Sugar, Sugar"
5. The Mock Turtles - "Can You Dig It?"
Of course, the artist responsible for a one-hit wonder in one country may have lots of hits or none at all in any other country. I haven't heard of all the one-hit wonders in America, let alone the
one-hit wonders in Canada
, but some of them are very familiar (like Trans-X's "Living on Video", The Inbreds' "Any Sense Of Time", Len's "Steal My Sunshine").
Several one-hit wonder lists are available for perusal at
Wikipedia
, from
One-Hit Wonders in the U.K.
to
1980s One-Hit Wonders in the U.S.
. Along with a blast of nostalgia (ranging from fun-to-frightening), the lists should provide plenty of inspiration for mix CDs and playlists.
Mix CDs aren't enough to satisfy everyone. John Moe suggests
Possible Follow-Up Songs For One-Hit Wonders
, including "Everybody Was Kung Fu Making Up" and "Won't You Give Me a Ride Home From) Funkytown?"
A Few One-Hit Wonders:
(Right-click to download all songs:)
Trans-X - Living On Video
(available on
80's One Hit Wonders
)
The Flying Lizards - Money
(available on
Totally Punk Rock: the Essential Punk Album
)
The Icicle Works - Birds Fly (Whisper To A Scream)
(available on
The Icicle Works
)
Romeo Void - A Girl In Trouble (Is A Temporary Thing)
(available on
Sedated in the Eighties, Vol. 2
)