The Sugarcubes Announce Reunion Concert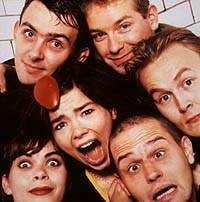 In honor of the 20th Anniversary of their first single "Birthday", the Sugarcubes plan to
reunite for a November 17 concert in Reykjavik
. In a press release posted at
Björk's website
, the group said the announcement was made with "unbound joy" and that "all profit" from the concert would go toward their own label,
Smekkleysa SM
, which "will continue to work on a non-profit basis for the future betterment of Icelandic music and artists."
According to the Sugarcubes'
Wikipedia entry
, "Birthday" isn't their first single. Let's just hope this isn't a hoax 20th Anniversary reunion concert when it should in fact be a 22nd Anniversary renuion concert. Either way, this will be the group's first concert since their 1992 breakup.
Ticket sales will be announced soon.
The Sugarcubes - Coldsweat
(available on
Life's Too Good
)
The Sugarcubes - Hit
(available on
Stick Around For Joy
)