Autumn Begins, As It Is Wont To Do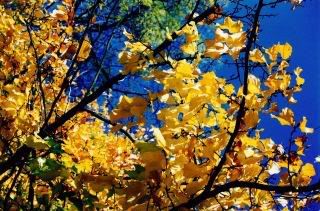 I nearly forgot today is the first day of Autumn. It's not just Southern California's lack of crisp, cool weather that threw me. There were plenty of other cues that a changing-of-the-seasons was imminent, such as the omnipresence of Halloween decorations, costumes, and greeting cards in stores, starting roundabout late-July (it's
never
too early to buy those Halloween greeting cards!)
It's more emotional factors that distracted me.
1)
Excitement
over the development of X-ray vision (or as the inventor, Dr. Timothy D. Drysdale calls it,
"Superhuman vision"
). Drysdale says with terahertz imaging it's possible
"to see the body beneath the clothes not just the bones that you see with x-rays"
. If this technology is truly that impressive, its potential applications, and the debates that might ensue over them, should be interesting. When the cost of the devices eventually falls, cereal-box prizes might vastly improve.
2)
Disappointment
over the decision of the weasels at Terra Fugia to move from inventor Carl Dietrich's saying
"I'm working on a flying car"
to
backpedaling at the AirVenture Convention
by hanging a banner outside a company tent reading, "It's not a flying car. It's a roadable aircraft."
Well, it
looks like a ripe lemon with cardboard wings crossed with some kind of mutant fish
. I love lemons but I don't want to fly or drive something that looks like one, and when shopping for roadable aircraft, I don't want to be reminded of cardboard. More importantly, Carl Dietrich said he was working on a flying car. He knew that's what everyone wanted, likely including the people who gave him a $30,000 prize for assorted inventions, including the one leading to his not-a-flying-car. Screw this roadable aircraft nonsense! You betrayed us, Dietrich! No one buy one of his lemon-resembling-small-airplanes-with-wheels!
3)
Admiration
for the editors of the
Wall Street Journal
. Every so often they decide the paper should - nay,
must
- risk looking ridiculous in the name of the public good. Yesterday was one such special day. Jane Spencer, hopefully a good deal off her usual beat, wrote of the market for rented
luxury port-a-potties
and "luxury restroom trailers", "equipped with amenities such as marble counters, wall-to-wall carpeting, satellite radio and flat-panel TVs". These facilities may be rented for parties, weddings, hoe-downs, or whatever shenanigans you have in mind, and if you imagine your hoe-down guests would be impressed by bathroom attendants, you can hire one or two.
A $1,895 restroom model called "The Presidential" can be enhanced with "live plants" for a mere $500 a night more. It would be somewhat funny if the $500/night "live plants" were a couple of very small, inexpensive houseplants someone picked up from a grocery store. Renting a port-a-potty is a risky business, but apparently this sort of luxury isn't optional:
"It's not just the flowers and the appetizers you have to plan," says Agatha Ciancarelli, who got married in her mother's backyard in New Canaan, Conn., last summer. "You also have to think about getting a fancy port-a-potty."
You have to! Perhaps from now on, every little kid who wants to get married will dream of what their luxury rented port-a-potty will be like... What kind of TV will it have, how many bathroom attendants... On their big day, who
wouldn't
want an exceptional bathroom to be what captivates their guests' attention?
(I heard the can at Agatha Ciancarelli's wedding was To. Die. For.)
But yes, it's Fall. Yet there's something reassuring about life's continuing weirdness, without regard to month or season.
Lambchop - Autumn's Vicar
(available on
Is A Woman
)
Chet Baker - Autumn Leaves
(available on
Jazz 2
)
Haircut 100 - Calling Captain Autumn
(available on
Pelican West
)