The Rakes Reject Ad Offer In Fur Protest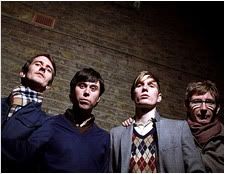 The Rakes
have rejected an offer for one of their songs to be used in a TV commercial for
Burberry
because the company
uses animal fur in their designs
.
Rakes singer Alan Donohue, who is vegan,
made the group's position clear in a letter to Burberry's CEO
, Angela Ahrendts:
"The Rakes will not shop at Burberry or participate in Burberry's ad campaigns until it pledges to stop supporting cruelty to animals and adopts a permanent fur-free policy.

By designing in fur, Burberry is supporting one of the most violent industries on the planet, and the Rakes won't be associated with that.

Burberry has always touted itself as a fashion leader, but there's nothing 'fashionable' about drowning animals to death or electrocuting or strangling them on fur farms for their coats."
Others can share their views on this issue with Burberry's CEO. Angela Ahrendts' e-mail address is angela.ahrendts@burberry.com and her postal address is:
Angela Ahrendts, CEO
Burberry Group PLC
18-22 Haymarket
London SW1 4DQ
United Kingdom
*It costs 87 cents to send a standard letter to the U.K. from the U.S.*
Burberry's phone number is 212-757-3700
The Rakes - Just A Man With A Job
(
right-click to download
, available on
Monsieur Gainsbourg Revisited
)