Oxford American Southern Music CD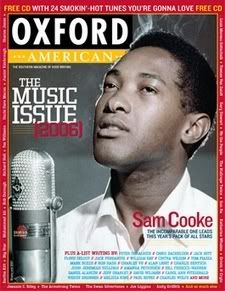 Oxford American
's annual
music issue
includes coverage of cover songs, country music, Southern music, Bob Dylan, DJ Ayres, music production, and music writing (good versus bad). They also have stuff about artists who have tracks on the disc that comes with the magazine.
All links are YSI
2006

Oxford American

Southern Music CD Track Listing:
Intro: Music From "The Middlin' Suite" by Slade Lewis, spoken words by Joey Lauren Adams.
1. Joe Liggins & His Honeydrippers - Goin' Back to New Orleans
2. Jeannie C. Riley - Words, Names, Faces
3. Uncle Dave Macon - Keep My Skillet Good and Greasy
4.
Big Star - Stroke It Noel
(so original and lovely)
5. Tex Williams - Smoke! Smoke! Smoke! (That Cigarette)
6. Junior Kimbrough - I Cried Last Night
7. The Armstrong Twins - Beetle with the Boogie Woodie Beat
8.
Sharon Jones - How Long Do I Have to Wait for You (Radio Edit)
(poor Sharon sings this while Katherine's so blissful. But by gum, we need both kinds of songs)
9. The Swan Silvertones - Oh Mary, Don't You Weep
10.
Bob Dorough - Three Is A Magic Number
11. Muhammad Ali - Theme from Ali and His Gang vs. Mr. Tooth Decay
12. Louis Moreau Gottschalk played by Amiram Rigai - Souvenir de Porto Rico
13. Drivin 'N' Cryin - Straight to Hell
14. Gary Stewart - Single Again
15.
The 6ths Featuring Katherine Whalen - You You You You You
(by jove, I think she's smitten smitten smitten smitten smitten! But possibly also infatuated -- she says she's only met the person recently, and she might really creep them out with this song! She already wants to "choose the day" (to marry?!) It
is
quite pretty, though... aside from the "kinda creepy" angle.)
16. Bob Dorough - Right On My Way Home
17. Andy Griffith - Mama Guitar
18. The NuGrape Twins - I Got Your Ice Cold NuGrape
19. We The People - She Does Everything For Me
20. Eartha Kitt - C'est Si Bon
21. Richard Hell - Blank Generation
22. Sam Cooke - Tennessee Waltz
23. Townes Van Zandt - Nothin'
24.
Sun Ra - We Travel The Spaceways
(experimental jazz)