Death + Taxes/Cursive Remix Contest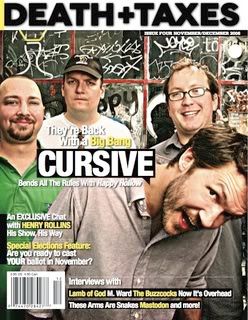 Bo Streeter
captured a bubbly, giddy image of
Cursive
for the November/December cover of
Death + Taxes
.
The cover, well-suited for the band's latest album
Happy Hollow
, spurred me to pick up (and buy) the magazine for the first time. While I can scarcely stop looking at the cover, the magazine itself seems intriguing as well.
Many artists are interviewed for the issue, including, naturally, Cursive, as well as
Calexico
,
Henry Rollins
, and
M. Ward
.
Readers' questions on a variety of topics, such as "Why are they called Grape-Nuts if they don't taste like grape?", are taken on in "Snappy Answers To Stupid Questions (Answered By Slighty Smarter People)".
In another feature, the magazine recommends 16 songs for reasons ranging from being "an absurdly catchy jam" (Pete Yorn's "Policies") to having "the best song title of 2006" (Daughters' "Boner X-Ray").
There's also an election special, a fall product guide and much more.
Cursive is currently on tour. The band recently announced a
"Bad Sects" Remix contest
.
The winning remix of their song "Bad Sects", will appear as a B-side "on a future Cursive single". The winner will get Cursivecentric prizes including a poster signed by the band, a Cursive t-shirt, Cursive buttons, Cursive stickers, and all of Cursive's CDs (not the ones they own, just the ones they've released). And no royalties, sorry. I'm sorry, not sure whether or not the band is. They probably are, though. Look how friendly they seem! 5 runners-up will get every Cursive CD.
Cursive - At Conception
(available on
Happy Hollow
)