Happy 60th Birthday David Bowie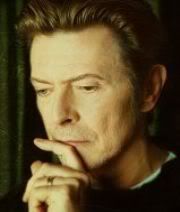 As I write this, from California, it's the eve of
David Bowie
's 60th birthday. But it's already the 8th across the pond... So, as impossible as it seems, David Bowie is now 60.
The man himself either has
"no plans for a lavish celebration"
for his birthday or will "mark his milestone birthday" rather lavishly,
"with a massive outdoor gig in New York later this year."
(He's curating the inaugural
High Line Festival
in May.)
Plans are afoot for
fan birthday events
- possibly lavish ones - for members of his message board. On TV, radio, and in print, people are already weighing in with opinions about favorite Bowie songs, albums and
"moments"
. (My November list of
top 5 Bowie songs
is too recent to need updating.)
There's also special Bowie-themed TV programming on channels such as the UK's
VH1 Classic
and
Turner Classic Movies
in the States. Bowie.net offers a
programming calendar
, so you can check out when and where to catch
David Bowie - A Reality Tour
or his cameo in
Yellowbeard
.
The 8th is David Bowie Day at
Virgin Classic Radio
.
On Saturday, a one-hour BBC Radio 2 program,
"Inspirational Bowie"
, aired. The broadcast has been archived and is now
online via streaming audio
. It's really excellent.
A staggering array of artists pay tribute to Bowie on the broadcast, including New Order's Peter Hook, Ian McCulloch, described as a "Bowie fanatic", Suede's Brett Anderson, Jarvis Cocker ("Somehow Bowie managed to keep that intelligence without it getting pretentious"), Richard Hawley (his favorite is still
Ziggy Stardust
), Boy George, Marc Almond (who talks about Bowie touching his hand during a concert), Elbow's Guy Garvey, Ricky Gervais (who thinks
Aladdin Sane
might be his best album, though he wondered, "Is this okay to like? Is it too arty? Is it too pretentious?"), Annie Lennox, Debbie Harry ("Bowie gave people an exit from numbing suburbia..."), and Moby (who talks about how Bowie never gets credit for his producing work.)
David Bowie, as James Dean in
Rebel Without A Cause
in a 1980
Tonight Show
appearance, performing "Life On Mars", from
YouTube
:
The Divine Comedy - Life On Mars (Live)
(from
Uncut: Starman: A Tribute To David Bowie
)
Big Country - Cracked Actor
(from
Uncut: Starman: A Tribute To David Bowie
)