Top Albums & Tracks Of The Year... That One That's Already Over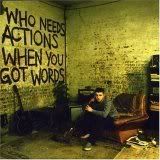 Coverage of the best music of 2006, in January's issue of
The Word
... after the year has ended... just what I ... wanted? It's logical, but not 100% welcome anymore.
Still, a lack of gratitude is hardly in keeping with the spirit of
International Thank You Day
. I do like that their praise isn't only heaped upon the usual suspects -- and that sometimes, the praise isn't unqualified ("For making such an irresistible racket and no sense at all", Ooioo's
Taiga
is a favorite album of one reviewer.)
Each of the magazine's reviewers list their five favorite albums of the year with a brief reason. Plus, the Editor, Art Director, Associate Editor, Reviews Editor, and one of the magazine's Directors each share the 20 songs their iPod played most often in 2006.
Editor Mark Ellen's #18 is The Shins' "Australia" from "
Mincing The Night Away
". Perhaps it's a special-edition album with alternate, camp versions of the tracks on
Wincing The Night Away
. I appreciate accurately-tagged songs, but I also appreciate a good laugh.
Oingo Boingo - Gratitude
(available on
Boingo Alive
)
Minus The Bear - Thanks for the Killer Game of Crisco Twister
(available on
Highly Refined Pirates
)
Gleaned from the piece on Favorite Albums Of The Year (which runs 4 pages):
Joanna Newsom's
Ys
- mentioned by five reviewers
Pet Shop Boys'
Fundamental
- four
Hot Chip's
The Warning
- three
Seth Lakeman's
Freedom Fields
- two
Plan B's
Who Needs Action When You Got Words
- one
Plan B - Everyday
(available on
Who Needs Action When You Got Words
)
Three more albums mentioned once:
David Ford
I Sincerely Apologise For All The Trouble I've Caused
Roddy Frame -
Western Skies
Extra Golden -
OK-Oyot System
Roddy Frame - Marble Arch
(available on
Western Skies
)
Reviews Editor Jude Rogers' Top 5 Most-played Tracks:
1.
Basement Jaxx - Intro
(available on
Crazy Itch Radio
)
2. Pet Shop Boys - "Integral"
3. Hot Chip - "Boy From School"
4.
CSS - Music Is My Hot Hot Sex
(available on
Cansei de Ser Sexy
)
5. Amy Winehouse - "You Know I'm No Good"
Editor Mark Ellen and Art Director Keith Drummond had the same most-played track in 2006: Basement Jaxx's "Take Me Back To Your House". Nothing by The Shins on Drummond's list, though, from "
Mincing The Night Away
" or otherwise. Muse's "Map Of The Problematique" took that spot (#18). Proving more popular than "Map" with Drummond: the electro-tango tune in the #11 slot:
Gotan Project - La Vigüela
(available on Lunático)
Associate Editor Rob Fitzpatrick's iPod played Alela Diane's "Dry Grass And Shadows" most frequently, and The Feeling's "Never Be Lonely" next most often, though he dropped the "The" (speaking of which, "The The" - great band.)
The Word's Director David Hepworth listened to Dave Alvin's "Kern River" most often, with "Makedo" by Darko Rundek & Cargo Orkestar in second place, not that it's technically a contest. But if it was, "Makedo" would just be first to lose with Hepworth. Just one of the also-rans. Taking their Rice-A-Roni and going home to canned applause.
On another note, a round of non-canned applause and hearty congratulations for non-also-ran Jax, who just wrote her
500th post
!