Valentine's Mini-Mix #3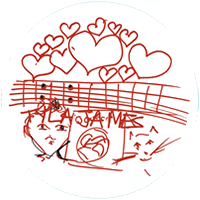 Happy Valentine's, everyone. Whether or not you're among the someone-expects-a-gift-and-card-from-me crowd, hope you're having a lovely day.
Single and attached ice cream lovers should find news of the new
Stephen Colbert's Americone Dream Ben & Jerry's ice cream
equally cool, provided they like the ingredients. They went with vanilla ice cream, fudge-covered waffle cone pieces, and a caramel swirl. Caramel. I'm not a fan. A cute idea, though, and apparently some people like the stuff for some reason. Plus Colbert is donating his proceeds to some mysterious (i.e. unidentified) charities.
The last batch of Valentine's songs:
If I ever saw a boy that I needed in this world,
You are the one for me
Samantha Sang - La La La - I Love You
(on
Emotion
)
If you need someone
to tell you
everything
is gonna be alright
I can do that
I can do that
The Field Mice - If You Need Someone
(on
Skywriting
)
I'd never give up on you
Because I know you'd do the same for me
Never give up on you
Because you take me as I am
How I'll always be
Ron Sexsmith - Never Give Up
(on
Time Being
)
Just to hear you say my name...
Heaven sent an angel
Revolver - Heaven Sent An Angel
(on
Feedback to the Future
)
She's perfect and precious her kisses delicious
She is all I desire baby sets me on fire
Superdrag - Baby Goes To 11
(on
Last Call For Vitriol
)
want to be a thought that's never done.
want to shake your faith in human nature.
want to break the hearts of everyone.
want to be your wheezing screen door.
want to be your stars of Algonquin.
want to be your roaring floorboard.
want to break the hearts of everyone.
The Tragically Hip - Lake Fever
(on
Hipeponymous
)
~ From The Hip's website: the
interesting story
behind the song.
~ The image at the top of the post is by
Amy Winehouse, from Whatever It Takes
.