Aimee Mann's Christmas Trilogy, Album News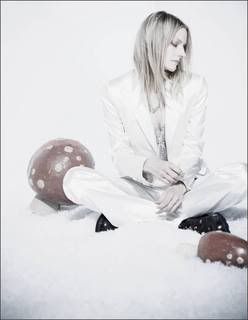 Aimee Mann
's funny, slightly massochistic Christmas Trilogy videos have just been added to YouTube. The trilogy documents Mann's quest to persuade celebrities to join her Second Annual Christmas Show's Los Angeles concert.
Paul F. Tompkins offers suggestions and support throughout Mann's odd journey. John Krasinski, Emily Procter, Patton Oswalt, Weird Al Yankovic, Bob Odenkirk, Fred Armisen, Ben Stiller, and Will Farrell co-star as (some version of) themselves.
Michael Blieden
directed.
Part one
:
Part two
:
Part three
Also recommended: Mann's recent
DCist interview
.
A few quotes:
"I think my favorite song, both as a song and as a song-I-like-to-play, is 'You Could Make a Killing.'"
On her next album,
Smilers
: "the 'concept' is really just to have each song be as different as it wants to be, and not worry about any kind of through-line. The through-line is really just the vibe of the instrumentation and the production and the musicians."
"The last record I got was probably the soundtrack to
Oklahoma
. I'm talking to a guy about turning
The Forgotten Arm
into a musical. Which is not by any means a new idea, but eventually I'm going to try to start working on that."
"I've sort of started working already on this other project: Besides the musical, I met with somebody from HarperCollins who wanted me to write a book, and she suggested I do a graphic novel. I was like, 'You understand that you have to know how to
draw
, right?'
[Laughs]
I mean, I draw a little bit, but that's an even crazier learning curve."
Nevertheless, Mann's been taking cartooning lessons (from an artist named Joe Matt). She says her graphic novel - "Kind of an autobiographical thing" will "probably happen before the musical."
Before either, Mann is scheduled to play
Bonnaroo
sometime during June 12-15 in Manchester, Tennessee. Tickets go on sale February 16th. According to DCist,
Smilers
is "due out in March". Summer tour dates would not be surprising.
Aimee Mann would not be cool with a song of hers being posted because she opposes file-sharing. Singer-songwriter
Shannon Campbell
, however, who has a very lovely voice, has made her cover of "Save Me" freely available, along with
about 100 other free MP3s
, most of which are licensed under a Creative Commons deed. There are both original songs and covers, including songs by Radiohead, Tori Amos, Fleetwood Mac, Smashing Pumpkins, Tom Waits, and Phish.
Shannon Campbell - Save Me