Shins' Crandall & Girlfriend Arrested for Domestic Violence; Crandall Still in Jail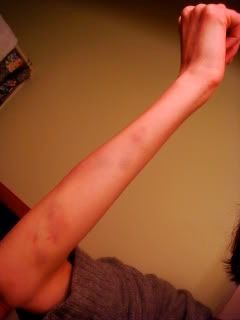 Photo of Elyse Sewell's arm, posted at her
Live Journal
Model and writer Elyse Sewell has posted a
disturbing story
of violence at the hands of her now ex-boyfriend of seven years, singer Martin Crandall of The Shins.
"It is not the first time," Sewell responded, when one of her
Live Journal
readers asked whether Crandall had "behaved this way" before. "But it is the last."
About this weekend's incident, Sewell writes, in part:
"1.) On the drive home (home?) from Albuquerque to Portland, my ex-boyfriend got shitfaced and roughed me up in a Sacramento hotel. I escaped from the room through a blitzkrieg of violence and talked to hotel security, who called the fuzz.

2.) Because he had a bite mark, inflicted in self-defense, on his arm, Marty told the police to PRESS CHARGES OF DOMESTIC VIOLENCE AGAINST ME."
Crandall has been charged with two felonies— domestic violence and corporal injury to a spouse or cohabitant. He remains in jail on $25,000 bail, and has a court date scheduled for Tuesday January 8th at 1:30 PM.
Sewell paid her bail and was released. She writes that she has been charged with "two counts of domestic violence ('corporal injury' [the bite mark] and 'general domestic violence'), both felonies."
Update: Charges against Sewell have been dropped
.