"U HAVE A BLOG" - Bitter Valentines, Robot Valentines, & More
Continuing our Valentine theme, it's not too early to switch to a Valentine's Day avatar. You can make your own candy heart with the
ACME Heart Maker
.
The real thing, NECCO's
Sweethearts candy
, is still available, as it has been since the 1860s. It's a part of many childhood Valentine's Days, but I think their product line has changed quite a bit since I was a kid, anyway. In my day, we didn't have the option of
Smoothie Sweethearts
with their "tempting fruit flavors" (Blueberry, Banana Caramel, Tropical, Peach and Strawberry Crème). Hmm. It sounds like "Banana Caramel" and Strawberry Crème could only be considered fruit flavors on some sort of technicality based on the inclusion of a fruit in their name. Hopefully kids don't start thinking caramel is a fruit and/or loaded with Vitamin C. To avoid any possible confusion, perhaps caramel should no longer be used as an ingredient in anything. (Full disclosure: I hate caramel.)
Also available:
Valentine gum hearts
and
chocolate-flavor Sweethearts
. The chocolate ones could go either way; they might taste all kinds of chalky and artificial or taste entirely delightful. Maybe they should have gone with regular hearts dipped in chocolate.
But what's this?
"Real Chocolate Expressions"
, "Chocolate pieces with various colors cut in the shape of hearts with imprinted sayings". That's the stuff. I couldn't find any indication on their website whether it's dark chocolate (as it should be) or some lesser chocolate, yet either way it stirs within me a vague sense of resentment and loss about only having one kind of candy hearts as a kid. Sure, there was other candy, and a sea of Valentines, flowers, and other gifts from beaus, admirers, friends, and acquaintances—but where were
my
"[c]hocolate pieces with various colors cut in the shapes of hearts with imprinted sayings"? It doesn't seem right.
I guess everyone has something to be bitter about at Valentine's Day.
Despair.com
hopes to capitalize on such emotions with their parody candy hearts, dubbed
Bittersweets
- "The Valentine Candy For The Rest of Us". There are three varieties: Dejected, Dysfunctional, and Dumped. Each includes "up to" 37 sayings and comes in six flavors: Banana Chalk, Grape Dust, Nappy-Citric, You-Call-This-Lime?, Pink Sand and Fossilized Antacid. It's also made in a facility that processes nuts and peanuts. (Yum?)
"Dejected" sayings:
I MISS MY EX, PEAKED AT 17, MAIL ORDER, TABLE FOR 1, I CRY ON Q, U C MY BLOG?, LOSS LEADER, A FINE WHINE, MOMMY ISSUES, DIGNITY FREE, DORK MAGNET, PURE NAUSEA, WE HAD PLANS, MAIL ORDER, SETTLE 4LESS, I'M HOT INSIDE
"Dysfunctional" sayings:
ANNULMENT, I BEEN CREEPIN, HE CAN LISTEN, GAME ON TV, CALL A 900#, P.S. I LUV ME, DO MY DISHES, BOOTY INFL8N, PAROLE IS UP!, AWFUL INLAWS, SUB PRIME, I WANT HALF, RETURN 2 PIT, NO FIX 4 DUMB, RATHER DRINK, MUTUAL DISGUST
"Dumped" sayings:
I GOT SOBER, HE FIT U FAT U LEFT SEATUP, USED U 4 FUN, JUST A FRIEND, BACK 2 KENNEL, DORKA PHOBIC, U HAVE A BLOG, RUSSIAN BRIDE, CELEB8 THX2U, DOG IS CUTER, TRADIN YOU IN
FORGET WE MET, KISS A FROG, SHE IS 22!, HE HAS A JOB
It's truth-in-advertising that these are "bitter", but I wish they were funnier. On the whole, they seem more mean-spirited than clever or funny. I'm totally not bashing them because they bash blogs; those bits are highly original and terribly witty. They aren't the only good lines, though. That sound you hear? The collective chuckling of Wodehouse, Twain, and Coward, whose funnybones must surely be tickled by such gems as "DORKA PHOBIC", "DO MY DISHES", and "HE FIT U FAT". Comparing an ex's looks (or those of anyone) to a dog? That isn't bitter; it's... oh, what's the word?
Ugly
, and not in a superficial way.
I haven't perused their site much recently, but I do find some of Despair.com's funny and have bought presents there... but not for Valentine's Day.
NECCO actually beat Despair.com to the punch both with the idea of writing messages on candy hearts for sweet occasions, and with the idea of making those messages humorously twisted, and arguably mean. They did the latter in the 1860s with
"humorously foreboding prophecies"
for weddings like "Married in satin, Love will not be lasting" and "Married in Pink, He will take to drink". Hilarious, no? *
crickets
*
Yeah, maybe not. But NECCO's kinder and softer now. They come bearing a
Valentine message game
, not dire love predictions (well, not as dire, anyway.)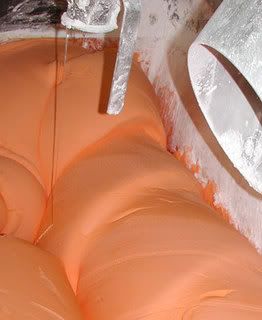 Plus,
factory tours
! ("Mix: The ingredients are mixed together until they turn into dough. (The consistency is soft like 'Play-Doh'")
Also on the Valentine beat, the
CRAFT Blog
, which tipped readers toward the
Indie Fixx Valentine's Day Gift Guide
. Their ideas include diamond substitutes (good), robot-themed presents (keen), and "anatomical heart" necklaces (yeeugh).
Indie Fixx also mentions the cute (and free)
robot mini-valentines
available at
blissfully bitter
. The eight cards range an emotional gamut; some of the messages are: "together for an unspecified period of time" (which I find pretty funny but not very romantic), "you've downloaded my heart.", "be mine, lust object.", "even robots have crushes", and "you're swell."
You can print out your Valentine(s), or, as blissfully bitter points out, copy and paste them "in an email or on your website". (If you do the latter, they also say a link/credit "would be greatly appreciated".) If you want to e-mail a robot Valentine, it's perhaps a mite easier to
send a robot e-card
, though the card selection is a bit smaller (5 choices, including an added "You're swooooonworthy!" card)
Until next time, hope you're feeling more sweet than bitter.