Thom Hell: Great Name, Better Music. Where's the Massive Fame?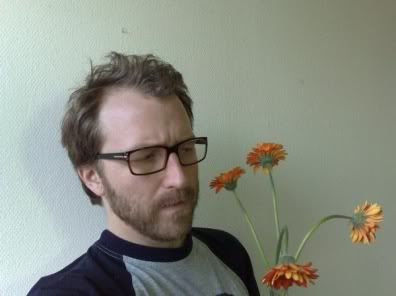 Ted Nugent probably wishes he had a cool rock name like
Thom Hell
. If your birth name is Thomas Helland and you decide to pursue a career in rock music, shortening your name in said manner is a savvy move—unless, say, your chosen genre is Christian Rock.
A musician named "Tom Hell" would suggest a rowdy American hard rocker, but the extra "h" whispers "Thom Yorke" in your ear. Surely not...some unholy Yorke/Nugent hybrid? Thankfully, no.
While neither his music nor voice are reminiscent of The Nuge or Radiohead, Norwegian singer-songwriter Thom Hell does often evoke the familiar sounds of other American and English artists on his work, which so far includes the EPs
Tremendous Sinner
(2003),
I Love You Too
(2004), and
The While You're Waiting EP
(2004), and the albums
I Love You
(2004),
Every Little Piece
(2006), and
God If I Saw Her Now
(2008).
While listening to
Every Little Piece
,
God If I Saw Her Now
, and the
eight demos
posted at his website, I wondered why I had not heard of Hell before. If I lived in or near Norway, I would have. Even instant coffee is not truly instant, but his first EP was released in 2003 which in modern terms was, what, ten, fifteen years ago? I demand answers! If he lived somewhere trendy like Sweden or Austin, by now he'd be ignoring increasingly desperate phone calls from Arcade Fire and making headlines for saying ridiculous things.
Hang in there, Arcade Fire; someone special is destined to ignore you.
The winning
Every Little Piece
brings on the cowbell and thoughts of E.L.O., Chris Isaak, and the Beach Boys, with gorgeous songs, some depressive and epic, some lovelorn but upbeat. At times, has something of Elton John's catchy-pop-song sensibilities. Elsewhere on the album, I was reminded of Elvis Costello. Hell doesn't sound like Costello either. There's a range and an effortless sort of quality to his work that connects Hell to Costello in my mind. They both sing well-crafted songs that don't seem as though they've been crafted at all.
Hell makes "I want to be there whenever she's lonely" sound both sweet and original on the lovely opening track "All I've Got Left". The opening of "Try", an album highlight, sounds a lot like the the opening of "My Freeze Day" from this year's
Dr. Horrible's Sing-along-Blog
, and its charms don't end there. Upbeat, playful music (particularly a rollicking piano) and clever, appealing vocals make the song wonderfully endearing. On its face, it doesn't necessarily sound that fun: a guy defiantly trying to muster the courage to write to his crush, who is involved with someone else. It's some combination of winsome and wince-inducing as he struggles with what to tell the lass ("Oh, I can tell her that I need her, but is that really, really true?")
Live
video
of "Try" (plus "One Step Up", from
God If I Saw Her Now
) live at Øyafestivalen August 8th 2008:
Other standouts on
Every Little Piece
include the country-flavored ballad "I Love You" and the E.L.O.-meets-Isaak break-up song "Leave Behind" ("Leave behind the wreck inside you and make plans for something new to come").
A '70s influence is still apparent on this year's
God If I Saw Her Now
. What other decade could inspire Hell to coo, "You should not be alone tonight/I could come over and make you feel alright" ("Alone")? Cheddar factor aside, it's groovy-in-a-good-way, mayhaps a bit reminiscent of Stephen Bishop ("On and On").
Alone (Demo).m4a
However, such outright 8-track moments are the exception rather than the rule on
God
. Hell hasn't abandoned the 70s, but he may have set aside the cowbell for more songs this time around (It's still really good, really!) Both albums are a little bit country, a little bit rock and roll.
The title reveals the theme, and hints at a wistful mood (track titles like "My Heart is Longing for a Soul" might "subtly" support this notion.)
There are indeed lovelorn songs a go-go, but over half of them are upbeat, with several lovecentric power-pop gems, such as the downright peppy "A Day & A Half", on which he seems to channel Joe Jackson.
"A Day and a Half" (live)
, at Øyafestivalen in August:
"My Heart Is Longing For A Soul" is an irresistible love letter with vocals, piano, and harmonies reminiscent of Ben Folds Five. There's even something of a "Don't Change Your Plans" sentiment, only slightly modified:
"Do what you want to do,
Be what you want to be,
Be my love
Say what you want to say,
Don't let me get in your way

You'd better get my heart, 'cause it's never gonna last
You'd better get this started, forget about the past"
My Heart is Longing for a Soul (Demo).m4a
"Never Come Back" is a twinkly broken heart in the key of Jon Brion—plaintive vocals accompanied by a gentle piano and fuzzy guitar, swirls of strings and keys. The gently pleading "Darling" has a subject similar to "My Heart is Longing For A Soul", but musically is more like "Never Come Back" with a bit of California surf.
A
video
of "Darling"'s audio:
When I first started listening to Hell, in addition to wondering why I hadn't heard of him before, I kept wondering who it was he sounded like. There's such a likeable, familiar quality to his music and his voice. Yet while I thought of a range of artists (not-yet mentioned: Self's Matt Mahaffey) who he sounded something like on assorted songs, one strong sound-a-like candidate has proven elusive. He's like a mysterious, stubborn Norwegian puzzle I can't crack.
By no means do I suggest that Norway is a land of tricksters or chameleons, only that Thom Hell is some kind of mysterious trickster or chameleon who happens to be Norwegian, and that this may or may not be a coincidence. He not only has a flair for a wide variety of genres (from country ballads to ELO-style pop-rock epics, and probably scat), but also the apparent ability to bend his voice into the sound and style of the artist of his choice, while retaining enough of his natural voice to not sound like an impersonator. Neat talent. All that, and he writes like a dream.
So what else does Hell have to
do
to make a name for himself? Arcade Fire's calls won't go unanswered by themsel-well, they might not. Why take the risk?
•
More Thom Hell:
•
• His
three albums and three EPs
can be purchased in either digital or physical format from
CDON.com
, or in digital format from
the usual MP3-hawking suspects
.
• His
official website
has more info and hosts eight demos for free download, including the two posted above.
•
Upcoming Concerts:
•
Sep 11 2008 Luftslottet Grimstad, Aust-Agder (8:00 PM)
Sep 12 2008 Union Scene Drammen, Buskerud (8:00 PM)
Sep 13 2008 Fjellfilmfestivalen Jotunheimen, Hedmark (8:00 PM)
Sep 17 2008 Nøtterøy Kulturhus Nøtterøy, Vestfold (8:00 PM)
Sep 18 2008 Logen, Phonofestivalen Bergen, Hordaland (8:00 PM)
Sep 19 2008 Meieriet Sogndal, Sogn og Fjordane (8:00 PM)
Sep 26 2008 Folken Stavanger, Rogaland (8:00 PM)
Sep 27 2008 Verdensteatret Sandefjord, Vestfold (8:00 PM)
Oct 1 2008 Rock Cafe Bodø, Nordland (8:00 PM)
Oct 2 2008 Driv Tromsø, Troms (8:00 PM)
Oct 4 2008 Studenthuset City Alta, Finnmark (8:00 PM)
Oct 9 2008 UKA pã ÅS Ås, Akershus (8:00 PM)
Oct 17 2008 Rokken Volda, Møre og Romsdal (8:00 PM)
Oct 18 2008 Parkteatret Scene Oslo, Oslo (8:00 PM)
Oct 24 2008 Kulturnatt Haugesund Haugesund, Rogaland (8:00 PM)
• Hell has played guitar and sung with fellow Norwegian singer-songwriter
Marit Larsen
for years, both in studio and on the road. Larsen, Hell, and Kaja Bremnes a.k.a. Sonberg recently played some unconventional locations (with the help of an adorable red toy piano) to promote Larsen's new single, "If a Song Could Get Me You". In addition to playing (see below) on a train, the trio performed the song
at a greengrocer's
, in the divinely-named borough of Frogner in Oslo and at
an underground station
in Nydalen, Oslo.
"If a Song Could Get Me You", live...
on a train
:
Larsen and Hell singing anti-love ditty
"Promises"
at an August 28th concert: