A Velcro Shoe Inspired by Stephin Merritt & More Filed Under Bleu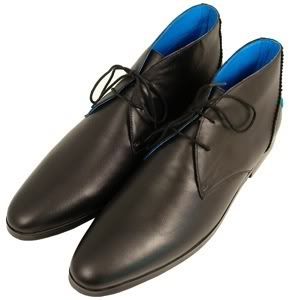 Ahoy! And that's the extent of the
pirate talk
in this post.
Via
Q
comes news of the perfect shoes to wear to see
The Magnetic Fields
this fall...particularly if you're a guy.
The "Stephin"
was designed "en hommage" to
Stephin Merritt
by the French shoe firm Bluedy. The shoes are available in brown or black, with laces or velcro. Each pair comes with a travel bag and 2 pairs of laces (although why you would need them for the velcro shoes is unclear, so perhaps you don't really get laces with those.) There are
Bluedy stores
in a few countries outside France, but none in the States...but ordering from overseas is perhaps worth it when you factor in that travel bag. By the time it gets to you, it will already have traveled.

The French firm has also created a 400-pair limited edition in honor of Jimi Hendrix. "Jimi" features laser-engraved guitars and is available in black and white.
According to Bluedy,
"more projects will come soon"
.
Their list of musical inspirations might provide a hint of upcoming plans (or cleverly mislead): "The Magnetic Fields, Richard Hawley, Ulrich Schnauss, Jimi Hendrix, Fabio Viscogliosi, Bryan Ferry, Bob Dylan, Koffi Olomide, Syd Matters, Stephin Merritt, Lou Reed, Brian Eno, Prefab Sprout, Talk Talk, Vacabou, Future Bible Heroes".
The first and last bands are also Merritt's, which helps narrow the field a bit. Bluedy also gives a shout-out to "blue suede shoes". There doesn't appear to be such a shoe in their collection now, but if they add a dozen more musical designs, will there be room for "Elvis" in the building?
Also Filed Under "Blue":
• Bluedy has their own
ipod
. However, I'd think twice about buying something called a "bluedypod", especially something more technologically advanced than a pencil case. A "bluedypod", if it must exist, should be either a relaxing, possibly igloo-shaped, place to "hang", or a fun, possibly igloo-shaped, playland for kids.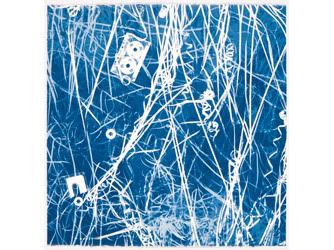 •
Christian Marclay's Cyanotypes exhibition
at Paula Cooper Gallery in New York, through October 11th. Also known as "blueprints" due to their color, cyanotypes are "unique photographic prints created by placing objects on a photosensitive surface." Marclay's exhibition features unspooled cassette tapes.
• October 1st
Blue Man Group
will perform on
The Dr. Phil Show
as part of a
stress-reduction segment
. "Drumming can be a very therapeutic way to reduce stress," according to the Group, who might well have some accumulated stress by the time they hit the stage if there's no way to mute the TV in Phil's Green Room.
Also ahead for Blue Man Group, but no doubt less exciting than their encounter with Dr. Phil: a September 22nd performance at the
Innovative Theatre Awards
in New York and a 3-D IMAX movie, which is scheduled to begin production next summer for a summer 2010 release.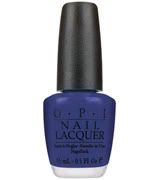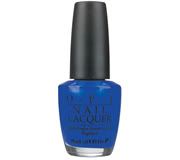 • Blue body paint on a smaller scale:
OPI Mod About Brights
Dating A Royal and Blue My Mind polish
Video
for The Magnetic Fields' "The Book of Love":
The 6ths & Katharine Whalen - You You You You You
(on
Hyacinths and Thistles
, one of the splendiferous albums released by Merritt's intentionally hard-to-say group)
Paolo Nutini - New Shoes
(on
These Streets
)
The Jayhawks - Blue
(on
Tomorrow the Green Grass
)
The Bellyachers - Heaven Is Blue
(on
Lucky Feet Move the Dragon
)
Nina Simone - Little Girl Blue
(on
Little Girl Blue
)
The Rocket Summer - Skies So Blue
(on
Calendar Days
)
Pat DiNizio (of the Smithereens) - Behind Blue Eyes
(on
Mojo - The Who Covered
)