Free Compilation: Not Doing It For The Quids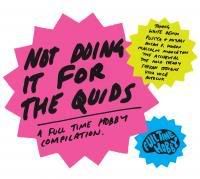 A couple months ago, the
Full Time Hobby
record label released their first compilation album, the rather swell
Not Doing It For The Quids
, which includes tracks by Sufjan Stevens, Malcolm Middleton, Fujiya & Miyagi, Tunng, Viva Voce, Micah P. Hinson, and Autolux, among others.
They
called it
"a snapshot of where we are after almost five years of existence." The disc was sold for £1.99, and at least once, given away as a concert freebie. Now, a zip file of
Not Doing It For The Quids
is available for free download in exchange for the non-cash-related "price" of signing up for the Full Time Hobby mailing list with a valid email address,
Highlights of the disc: Viva Voce's chirpy "Lesson No. 1", the somber, quiet passion of Micah P. Hinson's "Tell Me It Ain't So", the uniquely eloquent, somewhat less quiet somber passion of Malcolm Middleton's "A Brighter Beat", and Fujiya & Miyagi's catchy and lyrically creative "Dishwasher" ("We could paint our walls magnolia/We could buy a dishwasher/or a three-thousand piece puzzle of raspberry ripple ice-cream/We could be just like carnivores.")
Not Doing It For The Quids Tracklisting:
1. Tunng - Take
2. Fujiya & Miyagi - Dishwasher
3. Micah P. Hinson - Tell Me It Ain't So
4. White Denim - Mess Your Hair Up
5. Malcolm Middleton - A Brighter Beat
6. The Accidental - Illuminated Red
7. The Hold Steady - Your Little Hoodrat Friend
8. Sufjan Stevens - She Is
9. Viva Voce - Lesson No. 1
10. Autolux - Turnstile Blues
More free music:
•
Tunng MP3s
•
Malcolm Middleton MP3s
(including an acoustic demo of "A Brighter Beat")
•
Sufjan Stevens MP3s
• At the
Guardian
website, enter a name, country, and email address, and indicate whether you'd like to receive spam-that is, "offers and developments" and "messages"- then immediately be taken to a page to download
Bob Dylan's "original, stripped-back version of 'Mississippi'"
, which the newspaper is billing as an "Exclusive free download". The song is from
The Bootleg Series Vol 8: Tell Tale Signs
, out October 6th in the UK and October 7th in the U.S. and Canadaland.