Maxïmo Park Releases Free Song From May Album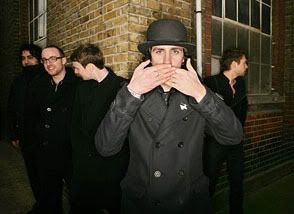 If you're speedy about it, you can catch a sneak preview of
Maxïmo Park
's next album
Quicken The Heart
, which is penciled in for a May release.
"Wraithlike", the source of the title phrase, is available as a free MP3 for the next two weeks to anyone registered at
MaxïmoPark.com
. Those previously signed up for the band's mailing list have already received a longer version of the song. Freebies everywhere! Or at least three of them. The band has also announced plans to hold a free concert in Newcastle, with details to be revealed this Thursday. Info about the sale of 7" "Wraithlike" vinyls, to benefit a to-be-revealed charity, is also to come on Thursday (Fair warning: It's
possible
the vinyls will go on sale then.)
Intriguingly, according to the band, the punchy "Wraithlike" is
"not the first proper single from the album"
.
Aw, does that comment show a bit of discomfort with this modern age? They're trying, with this "free MP3" thing that's so "in" nowadays but maybe they can't help but reveal their true old school feelings with a vinyl 7" pressing (just a little one, for charity!) and a tiny anti-digital comment.
Or maybe they have another reason for giving us this preview now, before releasing "official" singles in a Very Special order that will, say, tell its own story or form an interesting puzzle.
Maxïmo Park promises to update "soon" about the first "official" and second actual single from
Quicken The Heart
; now it will be a slight letdown if they only provide a title and a release date. Hopefully it will be at least as good as "Wraithlike", which is to say very. This spring and summer, the group is scheduled to play a slew of
concerts and festivals
. Their sets may or may not be proper in the "high tea", "MC Hammer", or Pepsi sense.
A one-minute-and-ten-second
glancevert
of "Wraithlike":