On Heavy Rotation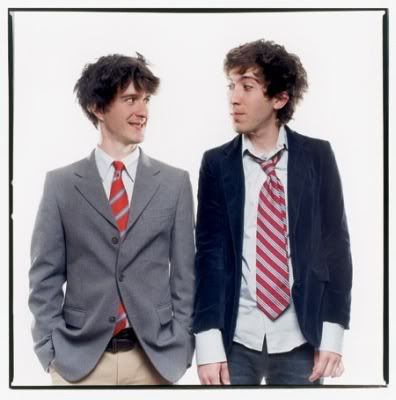 These are a few of my favorite recent songs...as in what-I'm-listening-to-the-most-lately, considering that one is from 1989)...the majority still have that new song smell (I've tried lemon juice, baking soda, and soap, to no avail.)
1. Bishop Allen - "Oklahoma" (on Grrr...)
One of my favorite tracks off an album that's grrr--oh forget
that
. But, yeah, it's a lot of fun. Danceable like whoa.
The sweetly quirky lyrics ("Let's pretend so we can begin again...You've got eyes like Oklahoma") remind me of a couple guys I recently met who rather impulsively drove to L.A. from Oklahoma with $100, just to spend a couple days here and check out the fair city. They plan to move here this summer and neither had been here before. They had some time, so the wacky kids decided to take a road trip. Love their adventurousness.
They have my idea of "eyes like Oklahoma". I think it means wide-eyed. For one thing, Oklahoma is very wide. On the more personal-association level, those kids were very nice, rather wide-eyed, and excited about traveling west to start their own lives...the concept also resonates with me as some mixture of those elements.
Live video
:
2. Blind Pilot - "The Bitter End", "Three Rounds and a Sound", "One Red Thread", and "Go On, Say It" (on Three Rounds and a Sound)
Israel Nebeker and Ryan Dobrowski make charming alt-rock with a blend of romanticism and cynicism reminiscent of Fox "I Want to Believe" Mulder. Not to call any of them morbid (or pale), but it wouldn't be wrong to say they share a certain
interest
in death.
"Three Rounds and a Sound"
live video
:
3. Oliver North Boy Choir - "Blackmail" (synth version)
This second, synth-soaked take on the song was sent by the band as a spoonful of sugar along with a bitter pill to swallow: while they still love us very much, and they still care about each-other a lot, things have changed, and it's time for the group to go their separate ways. The end of Camilla Florentz and Mikkel Max Hansen's marriage, while not a great sign, wasn't necessarily going to mean the end of the group they shared with Ivan Petersen. Why look at the White Stripes...although Jack White sure does spend a lot of time with the Raconteurs lately.
While the former members of Oliver North Boy Choir are still "friendly", they say since Florentz and Hansen parted in October, "it's become increasingly hard to find the time to record". So "Blackmail" will be their final single. Their compilation
Shameless Pop Songs
, will be released February 22nd, along with the
Blackmail
EP.
This sweetly sly, kicky synth version isn't available on either. Check out more ONBC MP3s at
their website
, particularly if you're new to the group and don't yet realize how cool they are...were. May they rock in peace...not that a break-up is akin to death.
"Blackmail" (synth version) MP3
4. Paul McCartney - "My Brave Face" (on 1989's Flowers in the Dirt)
Heard part of this song playing in a store recently and managed to scribble down enough of the lyrics to identify the song later, with the help of the Internets. I had also written "Sounds like Split Enz"...and was correct that it wasn't the work of an American artist. Also pegged it as vaguely historical...and it is from an era in time before the advent of computers, CDs, VCRs, and cellphones. Probably why people kept busy with silly things like those big MC Hammer pants; they didn't have anything else to do.
"My Brave Face" was co-written by
Elvis Costello
, under his birth name (Declan MacManus). Knowing of Costello's role, the song instantly makes a lot more sense. Some of those snappy rhythms and catchy melodies sound right up his alley and could easily bear his fingerprints... At other times, the song sounds a bit like Wings.
Not far beneath the surface of this take on an "I miss you" song" lurk less-than-idyllic nuances. Such murky material, along with some stylistic quirks like biting off words, finds Costello in comfortable territory. However, a fair amount of good songwriters who a) have been through a difficult break-up and/or b) find themselves writing a song with Elvis Costello might be capable of writing such material.
The interesting
video
:
5. Erin McCarley - "Lovesick Mistake" (on Love Save the Empty).
[Dieter from
Sprockets
] A lonely little bird wanders on a beach at midnight, Her heart is twisted and bleeding, from so-called "love". Distracted by pain, she wanders into a freshly painted bungalow and becomes disoriented by the fumes. Maybe she begins seeing dancing bears where no bears dance and decides to serenade these bears. She is creatively inspired by something anyway, and puts her gorgeous agony into song, and her voice perfectly captures the beauty of her alienation and torment. Two thumbs up! [/Dieter from
Sprockets
]
Video
of a live, acoustic version:
6. Annie Lennox - "Shining Light" (will be released as a single in the UK om March 2nd and on The Annie Lennox Collection.)
The greatest-hits collection also includes a very pretty, attention-worthy cover of Keane's "Closer Now", retitled "Pattern of My Life", but the "Light" cover is the glittery attention-grabber--and it's fantastic.
The colorful, shiny (but of course) disco-fab
video
, which includes an all-Lennox band: