Pop Culture Press & The Believer Magazine CDs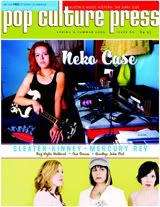 I love CDs that come with magazines. Not all of them, of course, but a lot of them.
One automatic purchase:
Pop Culture Press
. Their CD always contains at least a few gems I might never have otherwise found, even with all the music blogs I read. I might like some songs almost everyone else hates! And with those words ringing on your virtual ears (also known as your "eyes"), here are some songs!
First, a few tracks from the latest Pop Culture Press CD, to show you how swell it is, and encourage you to start buying it*
mp3:
The Lovethugs - Babylon Falling
This is nifty... a Norwegian band with a heavy 60s influence. One might in fact be tempted to call this song "groovy." The song doesn't sound like a copy of any one band or sound; there's a lot going on and it's all good fun. The Lovethugs'
website
tells us that, yes, that sure is a sitar we hear. Cool.
mp3:
The Crimea - Lottery Winners on Acid
You'll probably find this good, silly fun or loathe it. Reminds me a bit of Camper Van Beethoven... even if I'm off, thinking of Camper is a good thing.
mp3:
New Roman Times - The Going Away Gift
Handclaps. I like handclaps. Also has a breathy singer, if that matters. I'm all about the handclaps.
*Unless you already buy it, in which case, well... nevermind.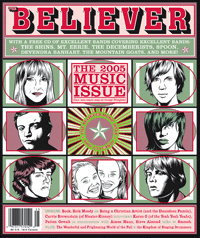 The June/July issue of
The Believer
includes a CD full of cover songs by artists asked to answer the question "What have you been listening to lately?" Apparently no wisenheimers turned in anything too surprising for the assignment, like several minutes of them reading cover versions of news radio reports or imitating their baby's crying. It's pretty much just songs. Aside from that disappointment, about which I am joking, I find the compilation... a bit disappointing, as a whole. The Shins' cover of We Will Become Silhouettes is excellent, but you already have it, don't you? I like The Decembrists take on Joanna Newsom's Bridges & Balloons. It's The Decembrists I like, not Joanna Newsom, who I usually find rather annoying. I also like the Constantines' tune... some of the others are lacking...
mp3:
The Constantines - Why I Didn't Like August 93
(cover of Elevator to Hell song)
mp3:
The Decembrists - Bridges and Balloons