Yeh Yeh Oh Yeah Yeah Yeah Yeahs Yes And So On...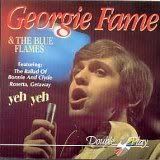 In 1965, Georgie Fame & the Blue Flame's "Yeh Yeh"
reached #1 on the British charts. It just missed the top 20 in the States. The song was recorded by Latin jazz artist Mongo Santamaria with lyrics by Jon Hendricks of Lambert, Hendricks & Ross
. Subsequent versions have been recorded, with varying degrees of success, in the opinion of... well, me. There are more versions of it out there... but I'm surprised it isn't covered more often. Maybe it's because it isn't an easy song to get right, but since when has that stopped anyone from covering a song?
mp3:
Georgie Fame & the Blue Flames - Yeh Yeh
(From On The Right Track: Beat, Ballad And Blues 1964-1971)
mp3:
Juliana Hatfield - Yeh Yeh
(From the soundtrack for Fathers and Sons, a 1992 Jeff Goldblum film that has a 4.8 rating at IMDB. The tagline sounds like pure gold though: "A serial killer. A prophet of death. And one family caught between them." -- so sorry I missed that one! If you think this is the worst song Juliana Hatfield has ever recorded, you're not alone. I love it though).
mp3:
They Might Be Giants - Yeh Yeh
(However, I do not like They Might Be Giants' version, from Mink Car. I love a lot of TMBG songs. This song is not one of them. Reasonable minds may differ)
mp3:
Matt Bianco - Yeh Yeh
(From the import album The Best of Matt Bianco: 1983-1990 I think they -- Matt Bianco is a group, not a person -- did a better job than the Giants)
Basically, the world could still use more versions of "Yeh Yeh." How to fill the void while we wait? If you don't love Hatfield's version, as I do, you probably can't and might just be stuck with a little empty space. Oh well, life goes on! In any event, here are some sort-of related songs to distract you from the emptiness within (oops, sorry for reminding you about it):
mp3:
Ash - Oh Yeah
(From 1977)
mp3:
Paul Weller - Uh-Huh Oh Yeh
(From Modern Classics: The Greatest Hits )
mp3:
Yeah Yeah Yeahs - Mystery Girl
(From the Yeah Yeah Yeahs EP)
mp3:
Yes - Owner of a Lonely Heart
(From 90125, and other albums)
mp3:
Mongo Santamaria - Fever
(From Feelin' Alright)
mp3:
Mongo Santamaria - Day Tripper
(From Instant Party)