Comes With a Smile Mag CD: Words Worn Down to Nothing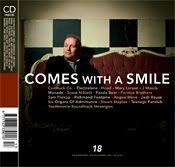 The latest issue of
Comes With a Smile
magazine, as always, includes a CD with plenty of exclusive tracks... I do encourage you to buy this fine UK mag if it seems like your thing. It's a nifty read, the likes of which should be encouraged, especially in a marketplace where quality mags don't necessarily sell the most copies. My position on CDs-with-mags remains "pro" and Comes With a Smile CDs have been an automatic purchase ever since they became easily available in the U.S. *cough* which was as of issue 17.
Their latest issue, issue 18, features interviews with Teenage Fanclub, Rogue Wave, J Mascis, and the Pernice Brothers, as well as several of the artists on the CD. Plenty of reviews too.
"Words Worn Down To Nothing" Track Listing (exclusive except when noted otherwise):
1. Scout Niblett - Ruler of My Heart
2.
mp3:
Rogue Wave - March
3. Sam Prekop - North South
(Previously released in Japan)
4. Youthmovie Soundtrack Strategies - Let's Get Going (YMSS Arbitrary Mix)
5.
mp3:
Don's Mobile Barbers - He's Heading Back Into Town
6. Currituck Family - The Boys Sing the Song of Jodi the Blue Jew of Aramanth (Hills of Isle Au Haut)
7. Panda Bear - Search for Delicious
8.
mp3:
Six Organs of Admittance - Sun Has Set
9. Stuart A. Staples - Say Something Now
10.
mp3:
Richmond Fontaine - Blur Out
11. Josh Rouse - My Love Has Gone
12. Mary Lorson & Saint Low - Born Knowing
13. Monade - At Last I'm Free
(From the tour single Sensible Et Extensible)
14. Hood - Winter Politics (demo)
15. Arco - Dry
16. Electrelane - Today
17. Anamude - Over There An Angel