Sunset Junction Street Fair (Jason Falkner, The Walkmen, Rilo Kiley...)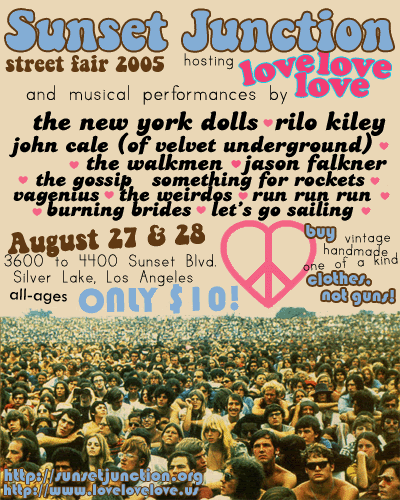 Hey kids, who doesn't love a fair? Oh yeah? Even if they have
frozen, chocolate-covered bananas
? Alright, I have no idea if they'll have bananas. They would pretty much de-thaw instantly anyway, if not liquify, if this hideous heatwave we're enduring in Southern Cal. doesn't let up.
That "Southern California" part makes this event geographically-difficult for most of you. So if you don't want to read about the fair or my theoretically-entertaining thoughts about it, by all means, scroll on down to the mp3s. I understand.
This year's
Sunset Junction Street Fair
takes place August 27 and 28 in Silver Lake. The fair starts at 10 AM both days. Saturday's shenanigans end at 11 PM; Sunday's hootenany ends at 10 PM.
This year's fair will has much to offer:
over 200 craft, artisan, and food booths, a dance pavillion (not sure exactly what that is, but how can a "pavillion" be bad?), and a carnival midway
. I really feel for all those poor souls who don't live anywhere near Southern California, don't you? An L.A. carnival midway will probably be
dripping
in glamour. If there
is
a way to make frozen chocolate-covered bananas stay frozen in 105 degree weather, they'll think of it, and spear those 'nanas on rhinestone-encrusted sticks for us.
Naturally, music awaits us too, on three stages. The
performance schedule
has mostly been announced for both days, with August 27's lineup appealing the most to me. Among those performing then: Jason Falkner, The Walkman, John Cale, and Rilo Kiley. The Willowz, The Leaving Trains, and The New York Dolls are among those playing the next day.
Tickets are a mere $10 (not counting the pesky transaction fee if you buy them online, i.e. $4.50)
mp3:
Jason Falkner - Photograph
(Def Leppard cover, from the Japanese 2-CD set Everyone Says It's On)
mp3:
Jason Falkner - My Home Is Not a House
(From Necessity: The 4-Track Years)
mp3:
The Walkmen - We've Been Had
(From The Walkmen EP)
mp3:
The Walkmen - What's In It For Me
(From Bows + Arrows)
mp3:
John Cale & Chris Spedding - Love Me Two Times
(live Doors cover)
mp3:
Rilo Kiley - August
(From Take-Offs & Landings)
mp3:
Rilo Kiley - Papillon
(From The Initial Friend EP)
mp3:
New York Dolls - Lookin for a Kiss
(From New York Dolls)