The Decemberists/Big Star (Again)/Teenage Fanclub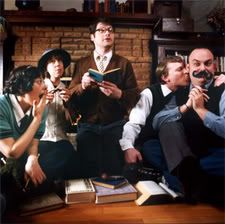 Nice article about
The Decemberists
in
The Guardian
today. A few tidbits:
- Singer Colin Melloy says of Robyn Hitchcock, "I feel I've kind of modelled my approach on what he has done." (Members of the Decemberists have participated in
Robyn Hitchcock tribute CD
and Meloy often discusses Hitchcock in interviews).
- Melloy's uncle used to send him tapes of US college rock from Oregon, so he would sit in his bedroom listening to bands like REM, Husker Dü, and Guadalcanal Diary.
- As evidence of fans' devotion: they raised more than $8,000 within a month when the group's equipment was stolen earlier this year.
mp3:
The Decemberists - Shiny
(From the 5 Songs EP)
And in our ongoing Big Star watch, the band have rather belatedly
confirmed the track listing of their album In Space
, which will be released Aug. 30 in the U.S. and Sep. 26 in the U.K.
Belatedly, because as
glendaplatypus
discovered
,
one lucky person already has the album, and wrote about it on a Teenage Fanclub message board
. I choose to interpret a comment like
"Chilton's guitar is out of tune for the whole thing"
as "Chilton, refusing to rest on his laurels, plays the guitar in ways so new they may seem wrong at first listen." No, really, I won't be heartbroken if I don't like the album, but I'll keep an open mind until I hear it for myself.
Spilling the track listing to the media does seem a little late at this point, but give the guys a break. They're older and slower now. On a semi-related note, I love Teenage Fanclub.
The tracklisting for "In Space" is:
mp3:
Dony
Lady Sweet
Best Chance We've Ever Had
Turn My Back On The Sun
Love Revolution
February's Quiet
Mine Exclusively
A Whole New Thing
Aria Largo
Hung Up With Summer
Do You Wanna Make It
Makeover
Gratuitous Teenage Fanclub:
mp3:
Teenage Fanclub - Free Again
(Big Star cover... not sure everyone's in tune the whole time here. Maybe they inspired Chilton, in a nifty circle of inspiration)
mp3:
Teenage Fanclub - It's All In My Mind
(From Man-Made)