Mercury Prize Compilation CD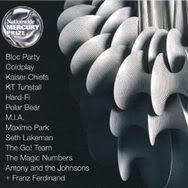 On Tuesday, the 2005
Mercury Prize
compilation CD was released in the UK. It's a mere 5 pounds for 13 tracks (the equivalent of $8.97 in the U.S. or $10.87 in Canada, which still would seem like a bargain. On the other hand, if it was available in Sweden, it would go for 69.19 Krona, which somehow seems quite high, even though I guess it's not. Maybe). I imagine it will make its way to the US at some point, though no longer at
quite
the same bargain price...
The winner will be announced on September 6. If there's a surprising winner, Mercury Prize Fever might last a good while longer. If not, I will likely let my interest dwindle down for a while, and focus elsewhere. However, if freaking Coldplay wins and especially if in Chris Martin's speech, as in his recent
Rolling Stone interview
, he feels compelled to say anything remotely like this -- "I definitely believe in God. How can you look at anything and not be overwhelmed by the miraculousness of it? Everything from that carpet to your nose to my balls is amazing. In fact, my balls are a particular miracle." -- Well, then. I swear on Alex Chilton, all bets are off.
The 2005 Nationwide Mercury Prize Compilation CD Track Listing:
1.
mp3:
Kaiser Chiefs - Everyday I Love You Less And Less
2. The Magic Numbers - Forever Lost
3.
mp3:
KT Tunstall - Black Horse and the Cherry Tree
4. Maximo Park - Graffiti
5. M.I.A. - Bucky Done Gun
6. Coldplay - Speed of Sound
7. Seth Lakeman - Kitty Jay
8. Hard-Fi - Tight Up Too Tight
9. Polar Bear - To Touch The Red Brick
10.
mp3:
Bloc Party - So Here We Are
11.
mp3:
The Go! Team - Ladyflash
12. Antony and the Johnsons - Hope There's Someone
13.
mp3:
Franz Ferdinand - Come on Home
(Bonus Track from 2004's Winner)
Lastly, credit for the compilation cover art goes to
Rowan Mersh, who won the 2005 Nationwide Mercury Prize Art Competition for the mixed media sculpture that graces the CD cover.