A Dozen Songs - Sam Ashworth, Close Lobsters, Johnny Cash & Human League Covers...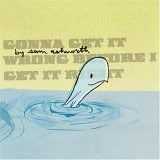 Not fair to blame the songs and say they "felt like being together", I suppose... hmm. Okay, there's a secret theme. No, that's not right... They're just good songs that ended up together. Who knows how these things happen in this crazy, mixed-up world of ours? Well, I guess in this case,
I
do since I'm the one posting them. Alright then; that settles that! On to the music!
mp3:
Sam Ashworth - Look Back
This track appears in the CD included with the current issue of
Paste magazine
. I wrote about that issue recently, and posted a few tracks from it. I try not to post too many songs from magazine CDs, though it's tempting... It's obviously a balancing of interests -- wanting to spread the word about more artists, while trying not to discourage (and preferably, encourage) magazine sales. In this case, someone from Ashworth's record label wrote to me and asked me to post the track from the Paste CD, which is from his solo album,
Gonna Get It Wrong Before I Get It Right
, which will be available on Sept 6. Fortunately, I like the song, because I would say so if I didn't (I can be plenty undiplomatic. What do you mean, you didn't question
that
much? Hmph. Thanks for the support, I guess). I would still feel badly about it! And who needs that? Not me. Hopefully, some appreciation for another song will also mean some reflected glory for
Paste
... (Do I get any credit for not making a "stick to" joke there? No?
Sigh
. Fair enough)
Vocalist/guitarist/"sometime drummer" Sam Ashworth is also in a band called
Astronaut Pushers
, along with guitarist John Davis of Superdrag, drummer Lindsay Jamieson (who played on Ben Folds' Songs for Silverman album and tour) and bassist/cellist Matt Slocum of Sixpence None The Richer. Their
website
is under construction but you can listen to a couple of their songs there, "Cut Me Off" and "Let Love In". I like both, especially "Cut Me Off". It's really excellent angsty power-pop. "Let Love In" is good too, a bit sweeter. The Astronaut Pushers EP is available exclusively through
Paste Music
. It's also the first release from the Astronaut Pushers' own imprint, label recording co., on which they plan to release other artists' work, as well as their own.
mp3:
Close Lobsters - Going To Heaven To See If It Rains
(Britpop, altpop, call it what you will, it's excellent. This was their first single. It's from 1986, and is out of print)
mp3:
Pee Shy - Mr. Whisper
(from the 1998 album Don't Get Too Comfortable. Good song. Terrible band name. Thanks to a tip at the Amazon page for this album, I saw that a couple members of the group had moved on to a new band called the Caulfield Sisters... much better name. See next track...)
mp3:
The Caulfield Sisters - Phoebe's Song (sample)
(from the Say It With Fire EP.)
Former Pee Shy guitarist/accordionist Cindy Wheeler and bassist Mary Guidera, along with drummer Kristen Mueller formerly of Gloria Deluxe and Hidden Driveways are collectively The Caulfield Sisters. The group describes the name as
"the musical metaphor of Phoebe, little sister of Salinger's anti-hero Holden Caulfield; Holden's Phoebe, the little sister as savior, a glimmer of hope in a blue coat, a sonic swirl, a beautiful blur that keeps whirling past you on the Merry-go-round."
I wonder if at some point Mueller said, "Guys, it's just a name, we're putting too much thought into this" and one of the former Pee Shy members got really worked up. You can tell they put a lot of thought into the name this time.
mp3:
OMD - Talking Loud and Clear
(from The OMD Singles, The Best of OMD, and the out of print Junk Culture)
MP3:
Four Tet - My Angel Rocks Back And Forth
(From Rounds. Sounds like a musical interpretation of breathing... yeah, I know you could have guessed the musical part even without downloading it. Wisenheimer)
mp3:
Peter Shelley - Straight 'A''s in Love
(Peter Shelley = Pete Shelley, the ex-Buzzcocks singer, the guy who sang "Homosapien", etc. This track is from 'Til Things Are Brighter, a cool Johnny Cash tribute album from 1988. I lost this CD for a while... was happy to find it again. A couple more songs from it are posted below)
mp3:
Marc Almond - Man in Black
(Another Johnny Cash cover from 'Til Things Are Brighter)
mp3:
Tracey and Melissa Beehive - Five Feet High And Risin'
(Another Johnny Cash cover from 'Til Things Are Brighter. Tracey and Melissa are from Voice of the Beehive. The band had a reunion tour last year but alas is no longer together... I liked them)
mp3:
Cinerama - Barefoot in the Park
(from Va Va Voom)
mp3:
The Waifs - London Still
(From Up All Night)
Two tracks from the Human League tribute album Reproductions: Songs of the Human League:
mp3:
The Aluminum Group - Love Action (I Belive In Love)
mp3:
Baxendale - Keep Feeling Fascination