Fiona Apple to Release New "Extraordinary Machine"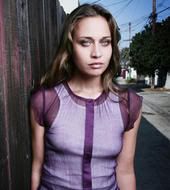 Fiona Apple
has announced
the completion and October 4 release date of her third album, Extraordinary Machine. She says she has been working on it
in a rather "on the down low" fashion
, even while many fans were lobbying for the release of an earlier version, which had leaked. Odd that she would let them, if she didn't want that version released anyway.
Apple says, "Now that my album is finally finished, I am very, very excited to have people hear what we did - I am so proud of it, and all of us who worked on it." According to
Billboard
, "Apple was not happy enough with the Brion-produced versions to release them." But at least she's still "so proud" of him... In April 2004, asked Mike Elizondo, who played bass on two songs from her 1999 album "When the Pawn..." to help her "re-imagine" them. Again, if this is true, why not tell her fans that instead of letting them invest their time and energy in a pointless campaign on her behalf? Both Apple and her record label have been mum until today about her album's status. Why?
Two songs from the "new" album are from Brion's version, according to Billboard: the title track and "Waltz". Nine other songs that were leaked will be on the album. "Parting Gift" is a new piano and vocal song recorded in one take. Funny that the "brand-new" song took just one take, and that they're publicizing that... but of course an artist should be happy with their album.
Along with announcing the new version of "Extraordinary", Apple has launched a new website at
www.fiona-apple.com
. If you sign up for her mailing list, you can listen to "Parting Gift" and "O' Sailor". Tomorrow, the tracks go on sale at iTunes in an "exclusive bundle download", which sounds sort of painful, but probably is not.
In Apple's/Epic's press release they mention her "intensely loyal fans" and praise Apple herself in a number of interesting ways. They acknowledge her "edgy and elegant musical genius" ... she's "a visionary" ... sure, there's the "captivating videos" (gee, do they mean captivating in a "visionary" way?) ... she's "an uncompromising and original artist".
And there's the spin... Fiona Apple is an uncompromising artist. She wouldn't settle for an album that was merely good. Her fans are wonderful, so loyal and special, but she can't compromise when it comes to her artistic vision.
I don't know what really happened, but I wish Billboard didn't report the "Fiona Apple is a perfectionist/Jon Brion kinda sucks" version by saying "But in truth"... There's a difference between "a couple of people say this" and "this is the truth." The New York Times'
article about the album
(which requires registration to read) includes a quote from an "executive", who says the album, "was never in a place where she wanted it out." The exec "spoke on condition of anonymity to protect a relationship with Ms. Apple" although their statement seems to support what she's saying. Why would that harm their relationship?
Whatever the truth is, it's cool that Apple's preferred version of "Extraordinary Machines" is coming out, but I think her fans could have been treated better during the waiting game.