August Uncut Mag/CD - Highway 61 Revisited - Revisited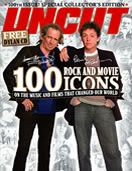 The August issue of
Uncut
is well worth buying, aside from the CD. It's their 100th issue and they're commemorating with a cool feature called "The Uncut 100." 100 people -- "Uncut's select panel of music and movie icons" -- each picked a favourite album, movie, book, TV show, etc. It sounds as though someone(s) at the Uncut staff decided how to rank the 100. Fair enough; I don't think anyone expected the "panel" to do that. These lists are pretty random and subjective anyway. This one's fun to read and their "panel" includes some cool people. It's all good.
It's nifty reading.
Robert Smith's ode to David Bowie's The Rise And Fall of Ziggy Stardust is touching; I like how well he can remember how it felt to listen to that album at the age of 13. Some people have great stories about their first album, and often there's something special about the music you loved when you were young.
Noel Gallagher picked "This Charming Man" by The Smiths and talks as sweetly as he ever seems to about how "incredible" he found them. None of his "football hooligan" friends liked them, though. He credits the band for his realization that he wanted to pursue music, so you can direct any credit/blame accordingly (mostly to Moz and Marr apparently).
South Park's Matt Stone gives props to The Simpsons, and tells us once or twice a week the South Park writers spend an hour talking about a "great idea" before someone dooms it with the words, "
Simpsons
did it." Saint Etienne's selection: The Stone Rose's eponymous album. I already liked Saint Etienne, but my fondness level inched upward a bit with that pick, and there's a nice little story to go with it.
Some of the others in the Uncut Panel: ABC's Martin Fry, Jarvis Cocker, Josh Rouse, Johnny Marr, Marc Almond, Ed Norton, Michael Madsen, Sonic Youth, Lou Reed, New Order, Doves, Patti Smith, and... Hall and Oates. Hall and Oates make one pick together (James Brown - Live at the Apollo). Ditto for Sonic Youth, New Order, Doves... but the guys from REM each get to make their own pick, perhaps because they're such pals with Uncut, what with
the magazine covers and compilation CDs
and all.
Bo Diddley praises The Clash's debut album and talks about touring with them. He says, "The Clash were good to me, man." His hearing was left damaged, though. That sucks, and this issue merits some space in a music blog. Hearing loss and
tinnitus
are not rare, and they can of course be fairly traumatic. Noise can
cause either or both, and it can happen quickly
. Sadly, there is
far too little awareness of the problem, including among adolescents and young adults
, which tends to be a time when people go to a lot of concerts. (Music may seem more "gnarly" and "radical" when you're young. Plus, allowances are "righteous" and can fund such expensive... fun. It could also pay for earplugs, and most respondents in the survey linked above say they would wear them if they were advised to do so by a "medical professional" or knew there was "the potential for permanent hearing loss")
H.E.A.R.
, founded by Kathy Peck, a former bass player and singer for The Contractions, along with physician Flash Gordon
(what? I didn't name him)
works to teach the public about the dangers of excessive noise. They also promote the use of ear protection, for example by setting up earplug tables at concerts. They've released a couple of benefit CDs,
Who's Not Forgotten: - A Tribute To The Who
, with covers by Guided by Voices, The Contractions, and Pat Dinizio, and
The Story : Letter from Ginger Coyote
, which includes tracks from Shonen Knife, The Avengers, and The Bellrays.
As for the Uncut CD, it's a re-recording of Bob Dylan's Highway 61 Revisited. Fitting as #1 on The Uncut 100 is Dylan's "Like a Rolling Stone" which Patti Smith "nominated" and discusses.
The Track Listing:
1.
mp3:
Like A Rolling Stone - Drive-By Truckers
2. Tombstone Blues - Marc Carroll
3.
mp3:
It Takes a Lot to Laugh, It Takes a Train to Cry - Paul Westerberg
4. From a Buick 6 - Richmond Fontaine
5. Ballad of a Thin Man - Willard Grant Conspiracy
6. Queen Jane Approximately - American Music Club
7.
mp3:
Highway 61 Revisited - Dave Alvin
8. Just Like Tom Thumb's Blues - The Handsome Family
9.
mp3:
Desolation Row - Songdog
(Wikipedia has a nice entry on this track, with some background, info, analysis and a link to the lyrics
here
)