The New Pornographers Show at Tower Records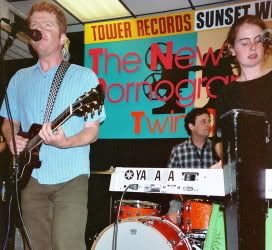 Canada's ambassadors of offbeat, smart power pop
The New Pornographers
brought their self-professed "weird factor", paper lanterns (made of
Twin Cinema
posters), and possibly more instruments, equipment, and assorted
stuff
than I've seen at any other in-store* to the
Sunset Blvd. Tower Records
Thursday night.
*
Disclaimer
: I have never been to a Polyphonic Spree in-store appearance.
Two days earlier, their aforementioned third album
Twin Cinema
, was released, hence the in-store appearance, consisting of an unusually-long set for a free gig, followed by an autograph-signing session. Tower required a CD purchase to get a wristband to see the show, which didn't seem to keep people away. A good-sized, enthusiastic, and friendly crowd turned out and were rewarded with a dynamic, rocking set that sometimes felt transcendent ("The Bleeding Heart Show" is an amazing song and even more special live).
The set understandably concentrated heavily on tracks from the latest album. At one point someone called out for "The Laws Have Changed". Frontman A.C. Newman assured him that the song they were about to play was "better" before playing "Jackie, Dressed In Cobras". No one seemed disappointed. The set opened strong with "Twin Cinema", closed with the very catchy "Sing Me Spanish Techno" and there wasn't a dud to be found in between.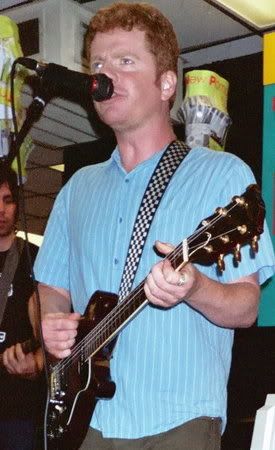 A.C. Newman
Kathryn Calder, in the spotlight as the newest New Pornographer (and fetching even more attention because she's A.C. Newman's niece), played piano and a very cute light blue tambourine with pandas and bamboo painted on it). She also sings, that night including "The Bones of an Idol" (which Neko Case sings on the album). I thought she sang "Bones" at least as well as Case, and her vocals in general were lovely; she has a clear, pretty voice.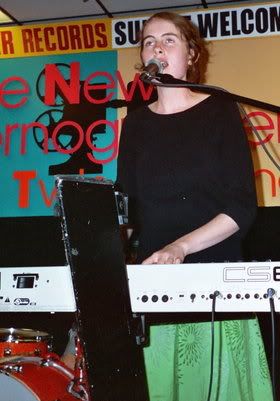 Kathryn Calder, whose favourite adjective is "magnetic"
Calder presented an interesting contrast playing the tambourine, and singing, for instance, the "Hey la, hey la" parts in "The Bleeding Heart Show" beside John Collins playing the bass sometimes rather stoically. He plays darn well, and isn't always
very
stoic; it's still quite a contrast.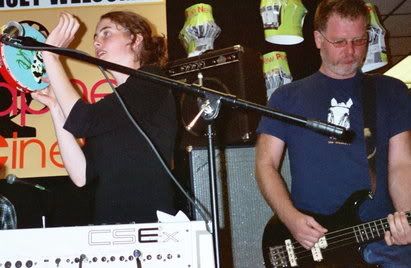 Kathryn Calder & John Collins
There's something nice about a group that lets each bandmember be themselves. Heck, with the New Pornographers, every bandmember doesn't even necessarily go on tour at all. However, Neko Case and Dan Bejar (who were not at this show)
are
going to tour with the band soon. Not because they have to, but because they want to, and it's a good time for them (this info about Case and Bejar is from the Morning Becomes Eclectic interview linked below). Of the bandmembers who were there that night, keyboardist Blaine Thurier joins Collins in being a bit more on the understated side. He looked right at me when I snapped the photo below, and then smiled...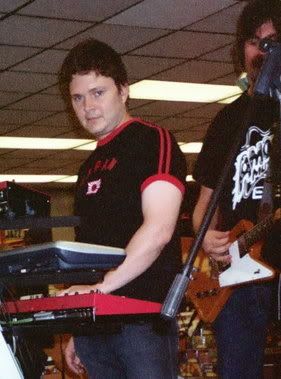 Blaine Thurier
Todd Fancey, who sings and plays guitar, and wears Amoeba Music shirts to Tower Records gigs (rebel!) might be somewhere in the middle. He's sassy, anyway, and likes the word "octoplatypus" though he insists it's an adjective. He has a solo album and EP out, incidentally. You can listen to a few mp3s at
his website
. He did not ask me to say that, or even mention his solo work. He mentioned "octoplatypus" repeatedly though.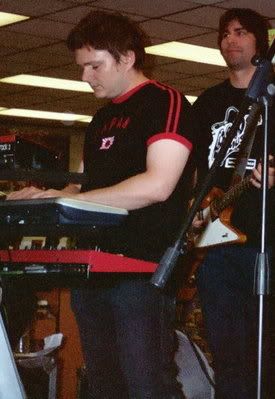 Blaine Thurier, Todd Fancey
Drummer Kurt Dahle plays the hell out of the drums, sometimes mugs amusingly for photos, used the word, "eh" when talking to me before the show (hey, that's endearing), has an interest in album covers (a subject near and dear to my heart), and is funny. However, when he walked by a couple teenagers while holding a cigarette (he was on his way to smoke it outside), it felt like a monent straight out of a "The More You Know..." PSA. (They cast Canadians, don't they?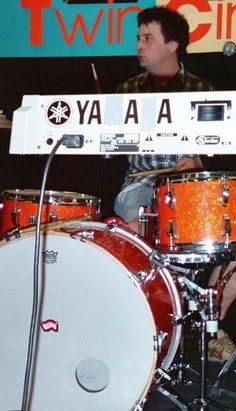 Kurt Dahle... he urged us to buy the new R Kelly on our way out of the store. I
think
he was kidding
Oodles of Tower merchandise was covered by "KCRW Presents" posters, obscuring products such as the Al Di Meola's
One of These Nights
DVDs ("Great DVD!!!! For Al Di Meola Fans Only!!!!" raves an Amazon reviewer) and all of the Survivor CDs. Their sacrifice to music and to
KCRW
should not go unrecognized! Maybe. Of course, KCRW (an awesome listener-funded public radio station in Southern California) deserves such sacrifices, especially when they bring us great things like
video of the New Pornographers' performance and interview
from Friday's Morning Becomes Eclectic. They played "Twin Cinema", "Use It", "The Bleeding Heart Show", "Jackie, Dressed in Cobras", "The Bones of an Idol", "It's Only Divine Right", "Sing Me Spanish Techno", and "Streets of Fire". There are a few audio pops during the video, but they're minor. Host Nic Harcourt's interview with the band (it's primarily with A.C. Newman, really) definitely merits your time if you've any interest in the band. Newman, clad in a
Late Show with David Letterman
T-shirt provides insight into the primary motivation behind the different sounds of
Twin Cinema
, compared to the group's previous albums ("Changing things around is what bands do on the third record, isn't?"). He describes some of the specific changes -- "having mid-tempo songs" and "things like ballads" -- and reveals that because Neko Case "always sang the really pretty upbeat pop hits on the first two records", they decided to "give her the two slowest songs" on
Twin Cinema
"just to screw with people." At least we're on notice that the New Pornographers are screwing with us; that kind of honesty is refreshing.
The cheeky-monkey, "let's screw with people" approach shouldn't necessarily be embraced by all bands, but it seems to be working for the New Pornographers. Newman told Harcourt, "I'd rather have people hate us for changing than hate us for staying the same." With
Twin Cinema
they've produced an album even Pitchfork loves.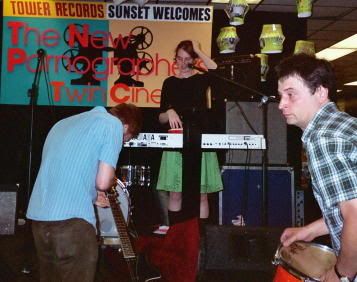 I asked if I could take a couple pictures of them setting up. They said "no" but I snapped ahead anyway (just kidding). Point of interest: The writing on Kurt Dahle's drum; I don't know what it says. His favourite adjective is "painless", for what it's worth. (Hey, it's something you didn't know ten seconds ago and it just may win you a game of Trivial Pursuit in twenty years. It's very, very unlikely, but technically possible!)
The New Pornographers are set to return to Los Angeles for a concert at
The Henry Fonda Theater
on Sept. 29. Before then, their tour will them to Vancouver and Portland. After that, the rest of the world! (or at least assorted American cities, as well as Toronto, and possibly other places to be named later).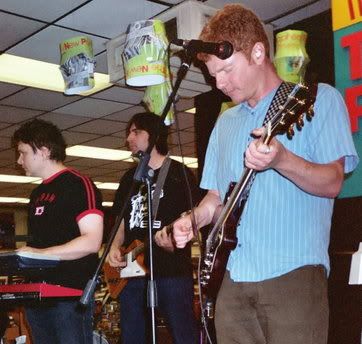 One person with his eyes closed, two looking away. I choose to regard this photo as something of an achievement. There are better ones I'm not posting but I somehow just like this one. Oh... that Newman fellow claims his favourite adjective is "shiny" but I think it's possibly one of those instances where he's "screwing with us" (or "me" as the case may be). I don't want to alarm anyone, but it's possible he may not even
have
a favourite adjective.
mp3:
The New Pornographers - The Bones of an Idol
mp3:
The New Pornographers - Use It
mp3:
The New Pornographers - The Bleeding Heart Show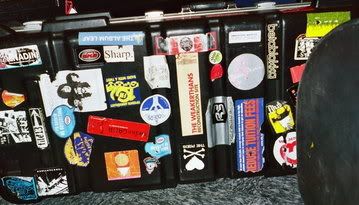 1. Observe
The Weakerthans
sticker. 2. Grin widely. (that's what I did, not instructions for you)
So... I have a
Twin Cinema
poster, signed by the New Pornographers to give away.
updated
to remove most of this part since it's over but of course not taking away my all-around thanks to Stephanie (who hung those poster paper lanterns above the stage. Not the only thing she did, but it's something cool you can clearly see in the photos) and also to ADA Distribution.