A Voice of the Beehive Post: Insert Own "Buzz" Pun [HERE]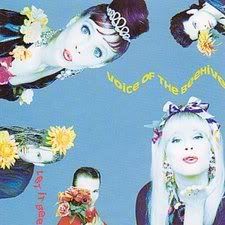 Voice Of The Beehive
was a fun group... while they lasted. The singers were sisters (Tracey Bryn and Melissa Brooke Belland); the rest of the group guys (guitarist Mike Jones, drummer Daniel Woodgate, and bassist Mark Bedford). This makeup set them apart from both "girl groups" like the Bangles and the Go-Gos and bands fronted by one female singer. The band couldn't market themselves as a girl group. With only one woman in the group, they might have had more marketing pow. The cover of the group's first album, 1988's
Let It Bee
(above) featured the entire band, and subsequent album covers increasingly focused on the sisters. To be fair, after the first couple albums,
only the sisters remained in the group
.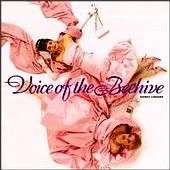 Honey Lingers
, 1991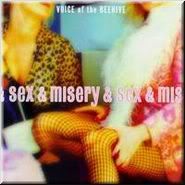 Sex & Misery
, 1996 (US cover)
When a "best of" album was released, although it only took tracks from the first two albums -- when the group was not yet a duo -- from the album cover you would think it was already one: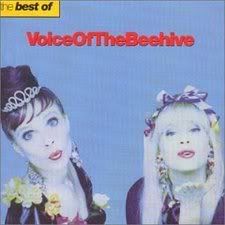 Voice of the Beehive's first album,
Let It Bee
blends smart lyrics that are often both cynical and yet a bit idealistic and sets them to catchy power pop beats. The women know plenty about the myriad of ways in which life can suck, which makes them all the more determined to make things better. Some positive social messages are snuck in along the way, but it's painless, really.
Girls lie to boys and boys lie to girls
He says, "I've been at the office, papers up to here"
but he smells like beer
She says, "It's okay"
He thinks she doesn't know... Women always know.
- "Trust Me"
Men are sometimes jerks in the songs of
Let It Bee
(this would remain a theme throughout their career, actually). "There's a Barbarian in the Back of My Car" and "Beat of Love" both have supremely quoteable lyrics on this topic.
One example:
He says he has a question, he starts tugging at my clothes
Would I be good enough to take him to his girlfriend's home?
- "There's a Barbarian In the Back of My Car"
Elsewhere on the album, the women get more serious. "What You Have Is Enough", clearly, is a song with a message, but it's pretty catchy so if you can tolerate being preached to a bit you might enjoy it. More serious songs like that track and "Sorrow Floats" hinted at the direction the group would take on their next album.
On
Honey Lingers
, the cheery Patridge Family cover "I Think I Love You" may have been the band's most blatant attempt at commercial success and/or they may have really dug that song and wanted to pay a sincere homage to it via their art. Elsewhere, the songs were a bit more contemplative and philosophical but mostly as sweet-hearted (so to speak). Maybe you can't judge a book by its cover, but sometimes you can judge an album that way. The sisters didn't just tone-down their outfits for Honey; it's less outlandish. While
five singles from Let It Bee were released in the U.K., only three were released from Honey Lingers ("Monsters and Angels", "I Think I Love You", and "Perfect Place")
(This is one of the last nuggets of information I wrote before finishing this piece and I'm slightly disgruntled at having picked all the
Honey
singles to post. I feel so predictible). In 1993, the group recorded the Rolling Stones' "Gimme Shelter" with Jimmy Somerville for a project of the same name ("Gimme Shelter" that is, not "Jimmy Somerville"). The project was intended to
to raise funds for a nonprofit called Putting Our House in Order, which helped people who are homeless
. I haven't been able to find a website for the organization, so I don't know whether they're still around.
By 1996's
Sex & Misery
, the men had left the group. The women had experienced
"a series of personal traumas"
prior to writing the album, which was
originally titled Disastrous Relationships, Disillusionment, Depression & Death
.
The album's liner notes addressed some of the difficulties the sisters had gone through since
Honey Lingers
. An excerpt:
While the days of Honey Lingers were bright and sweet, what followed was tinged with sadness both professionally and personally. After successfully extracting ourselves from our old record contract, my sister and I decided to make a go of it alone. This album is the result. Sung in grief at the loss of our innocence and band and in celebration of our independence, each note was a labour of love, Love, Missy
Again, no really outlandish songs on this one. Still plenty of cynicism.
We're all screamin',
No one's getting out
This is the game called playing house
- "Playing House"
I'd rather watch him just destroy my my home
Then try to make it on my own
- "I'm Still In Love"
Also still plenty of melancholy mingled with hope, and mixed feelings about that love thing.
I am a problem girl, I have a habit old
If I got silver I'd pine for shiny gold

...

I have a solid trust - I have a hope for us
- "So Hard"
"Let It Bee" is my favourite Voice of the Beehive album. I feel kind of badly for a group when I say their first album was my favourite but... it was. As for
Sex & Misery
, the music is a bit too sort of chirpy for me in places, and I still miss the humour. It's interesting that most of the songs tend to be either pretty angry or very sweet and hopeful. The group already was both cynical and idealistic and the sisters' string of personal problems and the band's breakup could intensify both tendencies, I suppose. I'm not sure whether it's the most emotional songs on the album that I like the most. I like "Scary Kisses", "Love Locked Inside", and "Blue in Paradise"... I like "Playing House" and "So Hard" except that both have a couple very, very 80s riffs that bug me a bit, even though I love a lot of 80s music. "Still in Love" is good though awfully angry and the positive message that must be in there is a bit more cloaked than usual.
The group
had a reunion tour last year
and a DVD
"Voice of the Beehive Live - Don't Call Me Baby"
is now available, but it's apparently encoded to only play in the UK (or in region-free DVD players, naturally).
There's a spiffy official Voice of the Beehive website
here
, run by a fan who is much more knowledgeable about the group than I am. My post: mostly assorted
opinionations
, with a few facts from the official website and
All Music Guide
inserted (cited, of course!) to subtly create the impression that I know what I'm talking about (pretty clever, eh?). Official Website Guy:
actually
knows what he's talking about (more impressive, but more work; it's debateable which is the "better" approach).
I don't know whether the sisters intend to "return to the studio" (what a funny expression; as though there is only one studio that must be shared). I think it would be great if they did...
From
Let It Bee
(my favourite Voice of the Beehive album. I could easily have picked any number of other tracks to post... ones I really like, I mean!):
mp3:
Voice of the Beehive - There's a Barbarian in the Back of My Car
mp3:
Voice of the Beehive - Beat of Love
mp3:
Voice of the Beehive - I Say Nothing
From
Honey Lingers
(also good; they did up the "sweet" factor a bit):
mp3:
Voice of the Beehive - Monsters and Angels
mp3:
Voice of the Beehive - Perfect Place
mp3:
Voice of the Beehive - I Think I Love You
From
Sex & Misery
:
mp3:
Voice of the Beehive - Scary Kisses
mp3:
Voice of the Beehive - Love Locked Inside
mp3:
Voice of the Beehive - So Hard