Music Lust: Recommended Listening for Every Mood, Moment, and Reason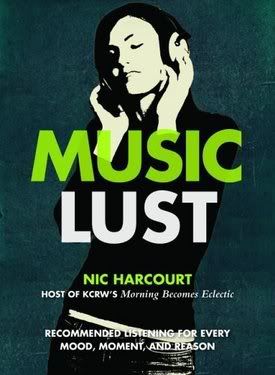 note: YSI is working well for me now, but wasn't when I posted this, so the links in this post are RapidShare...
A new book,
Music Lust: Recommended Listening for Every Mood, Moment, and Reason
, promises to solve the "dilemma" of "choosing what to listen to next". It isn't a comprehensive guide, but it does contain some nifty-sounding mini-guides to various topics and subgenres (artists from Iceland, "essential electronica", reggae, punk in the USA). Lists of recommended road trip music and make-out songs are included as well. They're almost requirements for this kind of book, as well they should be. The book also includes recommendations and lists organized by theme, such as bands with "chocolate" in their name and bands including brothers... neither of those themes intrigues me greatly, but that other content sounds very cool.
I'm especially hopful that Music Lust will be a great read because it was written by Nic Harcourt, music director of Southern California radio station KCRW and host of their program
"Morning Becomes Eclectic"
. He's certainly very knowledgeable about music, and "Morning Becomes Eclectic" is such a great show... Harcourt was the first American D.J. to play Coldplay, but I don't blame him for their later becoming pompous and annoying me. He was also the first to play Damien Rice and David Gray, and many other artists. Plus,
Rilo Kiley's More Adventurous was his favourite album of 2004
. So there ya go (I love Rilo Kiley).
mp3:
Rilo Kiley - Accidntel Deth
(from
More Adventurous
)
Frontline interviewed Harcourt in August and the
transcript
makes for interesting reading. He has intelligent insights about the music business...maybe people ought to listen to him.
On Friday, Sept. 16 at 6 PM, Harcourt will deejay at the Virgin Megastore in Union Square, New York and sign copies of the book -- if he does this at the same time, it will be more impressive, but his handwriting and/or deejaying skillz may suffer.
An excerpt from Music Lust is
online
at the website of his publisher's distributor. The excerpt includes four pieces from the book; here's one of them, with mp3s from some of the albums:
Great First Albums
They say that you have your whole life to write the songs on your first album. And up to the point that the work is written and recorded that's true. The second album is often the tough one and some artists only ever get one album released. But that's another category. Here are some debut albums that heralded the arrival of important new musicians [
note: this ends without punctuation, which makes me wonder whether the section might be longer in the book. Could just be a typo... Will update this after I buy the book...
]
Chuck Berry: After School (Session, 1958)
Little Richard: Here's Little Richard (Specialty, 1958)
The Who: My Generation (MCA, 1965)
The Jimi Hendrix Experience: Are You Experienced (MCA, 1967)
mp3:
Jimi Hendrix - Fire
The Velvet Underground & Nico: The Velvet Underground & Nico (Polygram, 1967)
mp3:
The Velvet Underground - I'll Be Your Mirror
The Band: Music from Big Pink (Capitol, 1968)
Led Zeppelin: Led Zeppelin (Atlantic, 1969)
Funkadelic: Funkadelic (Westbound, 1970)
Steely Dan: Can't Buy a Thrill (MCA, 1972)
Bob Marley & The Wailers: Catch a Fire (Tuff Gong/Island, 1973)
Patti Smith: Horses (Arista, 1975)
The Clash: The Clash (Epic, 1977)
mp3:
The Clash - Complete Control
Talking Heads: Talking Heads 77 (Sire, 1977)
mp3:
Talking Heads - Don't Worry About the Government
Television: Marquee Moon (Elektra, 1977)
(I like "Prove It", though I'd like it more without the scratch on my copy... so here's an example of my not posting mp3s from one of these not necessarily meaning I'm not down with an album/group...)
Kate Bush: The Kick Inside (EMI, 1978)
mp3:
Kate Bush - The Man With the Child in His Eyes
Joy Division: Unknown Pleasures (Qwest, 1979)
R.E.M.: Murmur (IRS, 1983)
mp3:
REM - Talk About the Passion
Run-D.M.C.: Run-D.M.C. (Profile, 1984)
mp3:
Run-D.M.C. - It's Like That
The Smiths: The Smiths (Sire, 1984)
mp3:
The Smiths - What Difference Does It Make
Sinead O'Connor: The Lion & The Cobra (Ensign/Chrysalis, 1987)
The Stone Roses: The Stone Roses (Silvertone, 1989)
mp3:
The Stone Roses - She Bangs The Drums
Massive Attack: Blue Lines (Virgin, 1991)
Beck: Mellow Gold (Bong Load/Geffen, 1994)
Jeff Buckley: Grace (Columbia, 1994)
mp3:
Jeff Buckley - The Last Goodbye
AIR: Moon Safari (Astralwerks, 1998)
mp3:
Air - You Make It Easy
Coldplay: Parachutes (Capitol, 2001)
Harcourt writes with disclaimers; how clever! It's a list of "some debut albums that heralded the arrival of important new musicians" -- he could have made it more vague, but he's a busy man! He didn't have time! I think it's refreshing amid the sea of lists titled as though they're settling the matter once and for all: "Best 50 Albums Ever!!", "The Power 100", "Ultimate 50 Best British Anthems of the Last Ten Years", and so on... Those lists are fun, but the hyperbole is a bit silly. Anyone can still quibble with this list, but it's a bit harder to since he hasn't called the list The Best Debut Albums. It's just some debut albums made by some important artists. Harcourt's approach may not be quite that casual throughout the book, but I do like this style. I don't like an elitist, dogmatic approach to music and I don't think Harcourt . On the , and I expect he will be on paper as well. I don't think he'll be much of an elitist in his approach, another reason he was well-suited for the job.
I should mention that this book follows
Book Lust
, which was popular enough to spawn a follow-up (called
More Book Lust
), and
calendars
. When a
librarian action figure
was made, it was modeled after Nancy Pearl, the author of Book Lust. As librarians are wont to do, they
got all worked up about the dolly, but did so while wearing sensible clothing and shoes, with their hair in buns (all librarians are female and wear their hair in buns), and they periodically shushed random passersby just for the rush of power it gave them
(Kidding. Pro-librarian, really!)
Archie McPhee
doesn't have a DJ action figure yet. So when the time comes... Nic Harcourt will be the obvious choice, right?
From Harcourt's
Frontline
interview:
What pisses you off about the music business?
"Oh gosh! I think what makes me most mad about the music business is that the people who run the music business continue to do the same things over and over again, things that don't work. The people who are in charge of the music business are not thinking outside of the box. They're in the same rut that they've been in for a long, long time. And what that has done is it has really re-juiced the general public's options of what they get to hear. And there's a lot of great artists who never get heard. And that's really what upsets me.
People who need to make music, need to write songs because they're artists, because they have to do it, don't get heard anymore because the music business has long given up on developing artists... It just really saddens me that there are people whose careers are basically put on hold because of the way the music business operates, or who never get an opportunity to really develop as artists, because those days are gone.
And to me, when the music business said, 'We've been killed by the Internet and by illegal downloading,' it's so unfair. Because what's really done them in is their inability to develop talent, and to stick with it. And so that stuff is what pisses me off about the music business." - Nic Harcourt