Thomas and K-Doe Missing in New Orleans; Domino and Toussaint Safe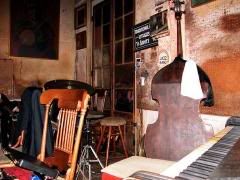 Fats Domino
, the rather famous singer, songwriter, and pianist,
was rescued from his flood-ravaged home, via helicopter, along with other family members, and is doing well
. This is according to his agent Al Embry, who told a reporter he plans to give Domino a hug followed by "a punch" for not listening to his warnings to leave town before the hurricane arrived. Perhaps a bill for that helicopter rescue could follow the punch. They're not cheap, nor are rescue resources unlimited, particularly in emergencies. Other people in need might have gone without help so the Dominos could be saved, because he stubbornly insisted on staying home (until reality set in, and a helicopter arrived and actually looked pretty appealing). I'm glad Domino and his family are safe, but they made a foolish mistake, which they compounded by endangering the lives of rescue workers, in addition to their own lives. If Domino and/or his family has learned their lesson, perhaps they'll
want
to pay that bill, and do one of those charming "The More You Know"-type public service announcements, preferably with a less obnoxious script than usual.
Sadly, some other prominent musical figures in the New Orleans community are still missing, including
Irma Thomas, the original singer of the Rolling Stones' "Time Is On My Side" and owner of New Orleans club The Lion's Den
. Antoinette K-Doe is also missing. She's the widow of
Ernie K-Doe
, who sang "The Mother-in-Law Song" and she owns
the Mother-in-Law Lounge, which was named after it
. (The clubs themselves are flood-ravaged, but of course lives are incalculably more important).
There was some good news on the musical front in New Orleans today, though, in addition to the revelation that Fats Domino and his family were rescued a while back. Rock and Roll Hall of Fame Musician, songwriter, and producer
Allen Toussaint
made it safely to the New Orleans Superdome, along with about 25,000 others
Toussaint's story has been treated as barely an afterthought in some of the Fats Domino articles (it mostly hasn't been deemed worthy of a separate story, apparently). Although an important R&B musician/producer, he isn't as well known to the public as Domino. He wrote many songs, including
"Working in a Coalmine" and "Get Out of My Life Woman"
(but that doesn't usually lead to fame). He also produced
Patti LaBelle's "Lady Marmalade" and produced, arranged, and played piano on many albums including ones by Etta James and Elvis Costello
. This is just a small bit of his extensive biography, so if you want to learn more... please visit your local library. Or perhaps check out
his All Music bio
for a start at least, either way.
Charity concerts are pretty much a given in the wake of a disaster, whether or not musicians are among the victims. Harry Connick Jr, Wynton Marsalis and Tim McGraw -- who were all born in Louisiana -- will headline
a one-hour, commercial-free concert on NBC this Friday, titled "A Concert for Hurricane Relief"
. The concert will air on NBC, MSNBC, and CNBC
at 8 PM EST and Matt Lauer will host the broadcast
.
Another concert to raise funds for huricane relief is planned for
Sept. 10 concert and will air on MTV, VH1 and CMT
. It will also air on MTV2, mtvU (okay, that's a new one on me) and VH1 Classic, plus broadband video networks MTV Overdrive (so does mtvU stand for mtvUnderdrive?) and VSpot. So far, Green Day, Ludacris, Gretchen Wilson, Usher, Alicia Keys, John Mellencamp, the Dave Matthews Band, Rob Thomas, David Banner and Linkin Park's Chester Bennington have been scheduled for the "MTV" concert.
Also, Jerry Lewis has
announced that his Labor Day telethon which raises funds for the Muscular Dystrophy Association, will also include "celebrity appeals for hurricane relief"
. The MDA also plans to donate $1 million to help hurricane victims in Louisiana, Mississippi, and Alabama.
mp3:
Fats Domino - Jambalaya (On the Bayou)
(from
20 Greatest Rock 'N' Roll Hits
,
Rock and Roll Giant
, etc.)
mp3:
Fats Domino - Coquette
(from
The Early Imperial Singles v. 3 1956-1958
, etc.)
mp3:
Ernie K-Doe - Mother-in-Law
(written by Allen Toussaint, from
Mother-in-Law
)
mp3:
Allen Toussaint & Chet Atkins - Southern Nights
" (from
Rhythm Country & Blues
)
mp3:
Lee Dorsey - Working in a Coalmine
(written by Allen Toussaint, from
Golden Classics
, etc.)
mp3:
Devo - Working in a Coalmine
(Lee Dorsey cover, from
New Traditionalists
,
Greatest Hits
, etc.)
mp3:
Irma Thomas - Time is on My Side
(from
Time is on My Side
)
mp3:
Irma Thomas - If You Want It Come and Get It
(from
My Heart's in Memphis: The Songs of Dan Penn
)
mp3:
Harry Connick Jr. - Way Down Yonder In New Orleans
(from
30
)
mp3:
Arlo Guthrie - City of New Orleans
(from
Hobo's Lullaby
, etc. I know it's about a train. It's a good song, and I like the idea of associating something non-destructive with New Orleans right about now... it seems scary as all get-out right now. I hope safety, peace, and calm will be restored soon).