Leona Naess: Rare Tracks (and More)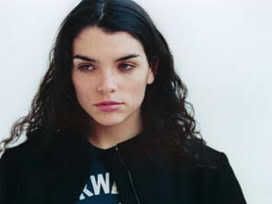 Leona Naess
writes and sings lovely, bittersweet, heartfelt songs -- the kind that are sometimes called "confessional" (I picture her listeners packed into the other side of a confessional booth as she sings). As for the genre... file under pretty alt. pop with a bit of folk and a bit of rock swirled in there.
The first two songs posted below were bonus tracks included on the Japanese version of the album
I Tried To Rock You But You Only Roll
, or in the case of the nice chap who sent them my way, with a bonus sampler given away only during the first week of sales of 2000's
Comatised
. The third song (from the same nice fellow) is from a 2003 live performance of "Calling" from "The Tonight Show".
At
Leona Naess' website
you can listen to samples of tracks Naess is working on for her fourth album, as well as an mp3 of "Ballerina", a song produced by Tori Amos and available only at Naess' website. She's currently on tour with Nickel Creek.
MP3:
Leona Naess - Favorite Ghost
mp3:
Leona Naess - Come, Come
MP3:
Leona Naess - Calling (The Tonight Show)
(from 9-15-2003)
mp3:
Leona Naess - Calling
(from 2003's
Leona Naess
)
mp3:
Leona Naess - Charm Attack
(from 2000's
Comatised
)
mp3:
Leona Naess - Boys Like You
(from 2001's
I Tried to Rock You But You Only Roll
)
mp3:
Leona Naess - Promise to Try
(from 2001's
I Tried to Rock You But You Only Roll
)