The Music of the Kid in the Street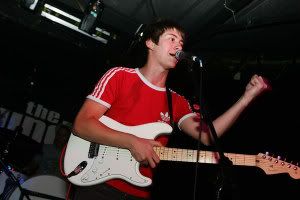 Across the pond (at least from me), the
Guardian
ran an interesting article yesterday on guitar bands embracing "social-realist rock" -- focusing on the real-life issues faced by "the kid on the street". (Not the American kid either; their problems were possibly considered "weird" or hard for U.K. readers to relate to. Or maybe they just don't like Fall Out Boy)
The first band cited is Hard-Fi. Reporter John Harris is underwhelmed by their title "Cash Machine". It's a good point; it's easy to mistake for a superficial, fluffy tune based on that title. But he breaks down the topics in the song, and they're certainly not lightweight: "unwanted pregnancy, what happens when you get caught without a train ticket, and the quiet hell of being permanently broke."
MP3:
Hard-Fi - Cash Machine
(from
Stars of CCTV
)
Tracing the trend, Harris says it can be argued that Mike Skinner (of the Streets) did something similar long ago. He's pleased with the trend's having injected substance into popular music. He also feels the current social-realist-rockers "achieve admirable feats of power and poetry" in comparison to early social-realist-rockers The Ordinary Boys, who he deems "largely awful". And quoted this lyric:
"How's the weather?/ Grey and boring!/ It's back to work on/Monday morning!"
My gosh, that
is
awful! So naturally I hunted it down. It turns out it's from a song called "Talk Talk Talk". It's actually kinda fun... some sketchy lyrics, but it's cute. Didn't realize from the article that they were a ska band, or alt rock/ska perhaps...
MP3:
The Ordinary Boys - Talk Talk Talk
(from
Over the Counter Culture
)
On the same album, the "Boys" included a song called "Robots and Monkeys" which makes them instantly somewhat likeable. However, the song poses the musical question, "What do you want to be, a robot or a monkey?" and possibly implies that either choice is undesirable, which some listeners may find offensive. I'm just sayin'. Also, why no choice of monkey robot? I guess they didn't realize that in America, at least, that's an option. We have mad technology, yo. At the Ordinary Boys'
official website
, there is a vaguely disturbing statement that they are "recruiting now for the Ordinary Army," so I guess they would prefer we want to be soldiers.
MP3:
The Ordinary Boys - Robots and Monkeys
(from
Over the Counter Culture
)
On their next album, the Ordinary Boys covered Locomotive's "Rudy's In Love". I think they did a good job with it. And hey, they're named after a song by the Smiths ("Ordinary boys, happy knowing nothing/Happy being no one but themselves").
(correction: make that a song by Morrissey. Eek.)
MP3:
The Ordinary Boys - Rudy's In Love
(from
Brassbound
)
As for The Streets' Mike Skinner, I think he is very talented. I hadn't heard his songs in quite a while before going back to listen to some today for this post. Most of his songs are such detail-packed stories that I don't know how well they stand up to repeat-playing over an extended period of time. Today at least, I have listened to a few of them a few times and they haven't gotten old... I think he's really good, but again... I don't know how often I'd want to listen to his albums. His songs are definitely not for everyone. Stylistically, not quite rap, not quite hip-hop. Every so often he sings a bit... The subject matter is sometimes gritty, the language pretty coarse at times. "Fit But You Know It" is one of the somewhat milder bratty songs. On some tracks, he's quite vulnerable ("Dry Your Eyes", about his girlfriend leaving him; and "Stay Positive", posted below). Despite the depiction a rough way of life and some hard times "on the street" and in his personal life, there are hopeful messages.
MP3:
The Streets - Fit But You Know It
(from
A Grand Don't Come For Free
)
MP3:
The Streets - Let's Push Things Forward
(from
Original Pirate Material
)
MP3:
The Streets - Stay Positive
(from
Original Pirate Material
)
Naturally, the Guardian reporter
loves
Arctic Monkeys
, whereas he thinks Hard-Fi "seem to try that little bit too hard". He thinks Arctic Monkeys' "social realism is the stuff of magical intuition". Wow. He says in their single "I Bet You Look Good On the Dancefloor" you hear "a cocktail of urban poetry and withering sarcasm" that has not been heard since Paul Weller sang "Saturday's Kids play on one-arm bandits/They never win, but that's not the point, is it?" By which he means the Jam's "Saturday's Kids"...
I don't have Arctic Monkeys' single, but after a drive from hell yesterday, largely spent listening to a lot of other songs by them, I emerged very fond of the band. I already liked them, but now I feel dangerously close to hype-mode. I even uploaded "A Certain Romance" before checking to see whether I had already posted it. (I had. I
just
posted it. Recently!) Since I already uploaded it anyway, I'll post it again, but post one I haven't already posted as well.
John Harris, in the
Guardian
article describes a "formula" for "kid from the street" success: "write plain-spoken celebrations of street corners, warm lager and inconclusive encounters behind bus shelters, which duly resonate with people whose idea of a good time involves exactly those ingredients." He also sees a belligerant attitude to the media as part of this, and something that will in turn make the media all the more fascinated with these artists. I don't know, I think in the U.K. if you're a celebrity and you don't feel at least a
little
belligerant (or at least ambivalent?) toward the media, you might be some sort of angelic-type creature and the harsh realities of life will soon crush your sweet gentle spirit. Angels are likely not found writing "kid from the street" songs. Harris sees the last step as fame, and (though he doesn't put it this way) losing your street cred. See? The (U.K.) press can be so harsh and cynical. He's happy for now about this trend, but can't help but look ahead and see doom and gloom, and
that's for the bands who reach success
! Oh, the poor bloke. Surely it will at least work out well for Arctic Monkeys! It's all sunshine ahead for them, and er, okay, "magical intuition" as well. Also possibly an answer to that monkey/robot question.
MP3:
Arctic Monkeys - A Certain Romance
MP3:
Arctic Monkeys - Scummy
Arctic Monkeys - video for I Bet You Look Good On the Dancefloor
(have posted this link before as well... I know, I know)
MP3:
The Jam - Saturday's Kids
(from
Setting Sons
, the import
Direction Reaction Creation
box set, etc.)
MP3:
The Jam - Going Underground
(from
Compact Snap
,
The Jam - Greatest Hits
,
The Sound of the Jam
, etc.)