O'Rourke Leaves Sonic Youth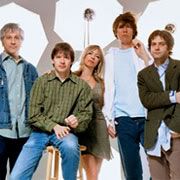 Sonic Youth
guitarist Lee Ranaldo tells Billboard.com that
for the time being, Jim O'Rourke is leaving the group
. According to Ranaldo, O'Rourke, who joined the group three years ago, is now "really interested in pursuing stuff outside the musical arena, particularly film work. Not necessarily soundtrack work, but making films and getting involved in that community." Ranaldo emphasizes that the group is supportive of O'Rourke's decision, as they "want what is best for him." He says some or all of the members of Sonic Youth may work with him again. It just won't be on the next album.
That next album will probably be recorded early next year; no hint was given as to a possible release date. Asked to describe the album, Ranaldo did
not
use the term
"song-orientated."
He told
Billboard
, "It's always hard to say at this point. It hasn't taken on its own life yet. Some of it seems to be an extension of the last couple of records, but some hearkens forward into territory and also back to earlier, more dissonant and atonal stuff we've done. There's definitely some rocking songs and also some sound piece-y kind of things that are pretty interesting as well."
Not only does that make sense, but now I feel I understand what the group meant by "song-orientated" (which apparently is how a Brit might typically phrase it, though I can't remember the last time I saw or heard "orientated" before the Sonic Youth article).
Ranaldo also told Billboard the group plans a retrospective next year, to be "centered around us and the visual artists we've worked with" and timed to commemorate their 25th anniversary. They plan to spend the next two years touring, and if enough extra high-quality material is available, they hope to release an expanded version of
Daydream Nation
, as
they did with Goo this summer
.
The Billboard article doesn't address whether someone new might join Sonic Youth. It sounds like that probably won't happen at least until after the production of this next album is completed. Perhaps there's no need for the group to think about it until after that, although it sounds like they plan pretty far ahead (a two-year tour? Wow. Does this mean Thurston and Kim's daughter will spend two years traveling the world?). I rather like this "friendly" breakup/hiatus trend, a la garbage and Sonic Youth. When it's time for a band member to move on or a group to break up, this is the way to do it. Why burn bridges? If a group has a difficult time breaking away nicely on their own, I say bring on the talking sticks and the
Stuart Smalley
instructional tapes.
MP3:
Sonic Youth - Kool Thing
(from
Goo
, with Public Enemy's Chuck D)
MP3:
Sonic Youth - Sunday
(from
A Thousand Leaves
)
MP3:
Sonic Youth - Swimsuit Issue
(from
Dirty
)
Sonic Youth has made many of their
videos
available on their website, but not the one for "Swimsuit Issue", and I haven't seen it. This
commentary about the song and video
still makes for interesting reading.
MP3:
Sonic Youth - Pipeline/Kill Time
(from
Sister
. Check out that Moog...)
A couple songs from a Sonic Youth side project:
MP3:
Ciccone Youth - Burnin' Up
(Madonna cover, from
The Whitey Album
)
MP3:
Ciccone Youth - Addicted to Love
(Robert Palmer cover, from
The Whitey Album
)