A Few of the 89 Albums You Should Have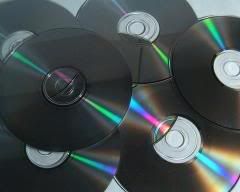 Across the pond, the Guardian brings word of a Napster survey which found that
the average person owns 89 albums (after deducting the 37 that they own but have been lost or swiped)
. The Guardian then gets down to the business of recommending which 89 albums you should own. However, if you already own 89, and you want to both remain average and follow their recommendations to the letter, you're going to have to do some album-trading/selling/junking. Stay strong, average music listener! Better yet, join me in having no idea how many albums you own and in doubting the survey's accuracy.
The Guardian does recommend some excellent albums, though...
MP3:
Leonard Cohen - Everybody Knows
(from
I'm Your Man
)
MP3:
Crowded House - World Where You Live
(from
Crowded House
)
MP3:
Bryan Ferry - A Hard Rain's A-Gonna Fall
(from
These Foolish Things
)
MP3:
Gorillaz - White Light
(from
Demon Days
)
MP3:
The Magnetic Fields - Very Funny
(from
69 Love Songs
)
MP3:
Talking Heads - I Zimbra
(from
Fear of Music
)
Compilations by these Artists are Recommended:
MP3:
Blondie - (I'm Always Touched By Your) Presence Dear
(from
Blondie - Greatest Hits
)
MP3:
Kirsty MacColl - You Just Haven't Earned It Yet Baby
(The Smiths cover, from
Kite
)
MP3:
New Order - Touched by the Hand of God
(from
The Best of New Order
)
MP3:
Pet Shop Boys - It's a Sin
(from
Discography
)
A Song From Five of My 89 (Or So) Albums, Not On The Guardian's List:
MP3:
Belle and Sebastian - Wrapped Up in Books
(from
Dear Catastrophe Waitress
. Sweet, lovely, and clever Brit pop)
MP3:
The Deathray Davies - Plan to Stay Awake
(from
The Kick and the Snare
. Eccentric, fun power-pop/rock. If you like the New Pornographers' weirdness, they may be up your alley)
MP3:
Rilo Kiley - Paint's Peeling
(from
The Execution of All Things
. Rilo's most recent album,
More Adventurous
, did fairly well critically and on the charts. It was one of my favourite albums of last year, but I prefer their previous albums.
Execution
is both accessible and excellent)
MP3:
Sloan - People of the Sky
(from
Twice Removed
. Ridiculously catchy Canadian power-pop that deserves greater recognition outside of the land of hockey and maple syrup)
MP3:
The Stone Roses - I Wanna Be Adored
(from
The Stone Roses
. A beautifully constructed ode to yearning on a classic album; it's surprising this album was left off the Guardian list)