Holiday Mixtape (on CD) from Her Space Holiday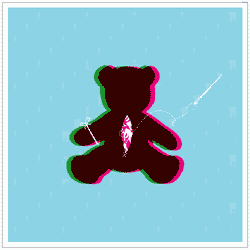 While supplies last, everyone who orders the latest
Her Space Holiday
album,
The Past Presents The Future
, from
Insound.com
, will get a free copy of a holiday mixtape (on CD) made by Her Space Holiday's Marc Bianchi. Already buy the album? Hahahahahahahaha! Sucker. I mean, why not buy a few copies for your friends and family?
Also at Insound, pre-orders are being taken for
a limited edition 5.5" X 5.5" print of a stuffed bear designed by longtime Her Space Holiday friend and collaborator, artist Hanni El Khatib
. These are printed on hahnemuhle German etching paper, and each print will be signed, numbered, and shipped in an acid-free bag. Orders must be received by December 9th to be received by Christmas. "This item will cease to exist on December 31st." No word on whether purchased prints are programmed to disintegrate sometime before the New Year dawns. Just in case, I advise sucking maximum enjoyment out of the prints until then.
MP3:
Her Space Holiday - Something to Do With My Hands
(from
The Young Machines
)
MP3:
Her Space Holiday - Spectator Sport
(from
Manic Expressive
)
MP3:
Her Space Holiday - The Ringing In My Ears
(from
Manic Expressive
)