The White Stripes Sell Out... for Love and Money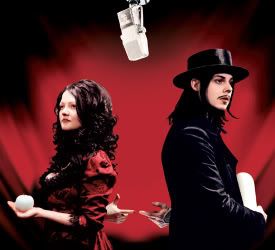 Jack White
tells NME he has written a song specifically to be used in a Coke commercial
. White said, "I certainly wouldn't want a song that I'd already written to be used on a commercial. That seems strange. But to be asked to write something particular along one theme of love in a worldwide form that I'm not really used to appealed to me. I've written a song and I wrote it really quickly and it's an interesting commercial that's been made. I was inspired by the commercial."
Mushy motivations aside, White did not claim to not receive a sizable check from the Coke folks (okay, it probably wasn't a novelty-sized check, it was probably of conventional dimensions, written for a large amount). He also did not declare that he gave the dough to a love-related nonprofit, or any other cause other than The Jack White Clothing Fund. He didn't say anything about money, actually, nor did NME ask, apparently. After writing the headline
"Jack White to get coked up!"
in August,
now
they go all soft on us? I almost feel like randomly, unfairly confronting the next musician I encounter. Somehow maybe it would help it balance things out a bit. Well, c'mon, they should have at least
mentioned
the money factor. Or better yet asked whether he felt artists using their talents to hawk sugared soda to the masses can really be justified by inserting a message of love into the advertisement. Doesn't that merely make the advertisement all the more insidious, seeking to tie a somewhat harmful (soda is fattening and tooth-decaying and not especially nutritious) product to notions of love? That's a powerful form of advertising when it works. The "I'd like to teach the world to sing" campaign was emotional, and successful. If a campaign touches the heart, it's more likely to make you reach into your wallet. White has every right to sell however many songs to as many massive corporations as he likes. I do wish journalists would explore with him the ethical ramifications of doing so. By partnering with Coke, he's opened himself up to the questions. He's a smart guy, isn't he? Why not have the discussion?
In other news related to
The White Stripes
... the group's
playing a "totally unique" version of "The Denial Twist" each night of their sold out U.K. tour, and are selling downloads of each version for .99 pounds each to U.K. fans via their mobile or a credit card
. Those who attend a concert are given a free blank CDR featuring
artwork, different for each night's song
.
As long as The White Stripes have opted to use live tracks as a moneymaking venture, I wonder why the limitation to U.K. fans. My $1.73 is just as good as a Brit's .99 pounds! Since these are downloads, shipping isn't an issue. I somehow doubt it's as simple as "We wanted to do something special for the U.K. fans." Won't somebody please think of the American children? We're so used to being thought of, we get confused and disoriented when we're neglected.
MP3
:
The White Stripes - The Denial Twist
("non-live", from
Get Behind Me Satan
)
MP3
:
The White Stripes - I Think I Smell a Rat
(
for Evie
the kittycat, from
White Blood Cells
)
MP3
:
The White Stripes - Hotel Yorba
(from
White Blood Cells
)
MP3
:
The White Stripes - Apple Blossom
(from
De Stijl
)
MP3
:
The White Stripes - Jumble, Jumble
(from
De Stijl
)