New Kate Bush: "Bertie", "How to Be Invisible", "Aerial", "Nocturn"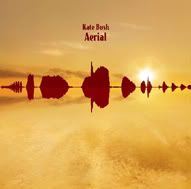 Oh, happy day. I have
Aerial
, Kate Bush's new double album. I haven't listened to all the songs yet, and I'd like to listen to it straight through at least a couple times before commenting on it, so for now "Oh, happy day" is about all I have to say.
The BBC's reviewer had plenty to say after listening to the album, concluding that
Aerial
"stands alongside The Hounds of Love and The Kick Inside as her finest work."
They call it "a very English album, with the rural feel of a John Betjeman or AE Houseman poem."
Side one (disc one), A Sea of Honey, contains personal songs, while the BBC review describes side two (disc two), A Sky of Honey as both "in a sense, a lyric poem set to music" and as "the album Pink Floyd might have made if Kate Bush had been their lead singer and lyricist in 1979."
Check out these songs for a taste of the album. It will be available Nov. 7 in the U.K. and Nov. 8 in the U.S.
MP3:
Kate Bush - Bertie
(from
Aerial
, disc one, A Sea of Honey)
MP3:
Kate Bush - How to Be Invisible
(from
Aerial
, disc one, A Sea of Honey)
MP3:
Kate Bush - Aerial
(from
Aerial
, disc two, A Sky of Honey)
MP3:
Kate Bush - Nocturn
(from
Aerial
, disc two, A Sky of Honey)