ABC Tour/Album News/Preview Of New Song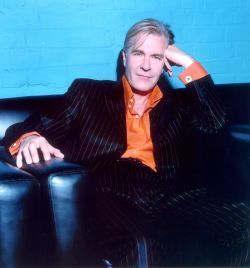 Martin Fry,
ABC
's singer, has announced plans to
launch a concert tour
this May and June with a new version of the group. Fry is the only original member of ABC in its current incarnation, but in August he said he and onetime ABC drummer David Palmer
had "reunited" during an appearance on VH1's "Bands Reunited"
(makes sense) and had since been "out playing about 16 dates to get things rolling again." Unsurprisingly, Palmer's joining the upcoming tour
is considered likely
.
Fry is also
"putting finishes touches to"
Traffic
, a new ABC album. No word on whether Palmer plays in
Traffic
. For some reason I can't put my finger on it feels wrong to hope he does. A tentative list of
songs "likely to appear on the album"
includes "Minus Love", "This Love Is Strong", and "Sixteen Seconds To Choose".
Upcoming ABC tour dates are referred to as "ABC & Martin Fry live shows" on the
main page
of the "Martin Fry & ABC" website and as "Forthcoming ABC Live Dates" on the
"Live Dates" page
, where they are also disclaimered as "yet to be confirmed".
Long after all the clouds of confusion have cleared, on May 6, someone(s) might show up and sing about poison arrows and how to be a millionaire in Agoura Hills, California. He/they might then do likewise in assorted other cities in California, Toronto, Boise, NYC, and such.
Fry has cleverly given folks a chance to preview a song ("Ride") from ABC's forthcoming album at the website for
The Lost World Trek
rather than at his and ABC's website.
Fry, Tony Hadley (of Spandau Ballet), Richard Drummie (of Go West), their manager John Glover, and 31 others recently went on a rather
intriguing-sounding trek to The Lost World in Venezuela
. They traveled through jungles and "misty cloud forests", checked out waterfalls and cold jacuzzis, camped in the occasional cave, and climbed mountains and sheer cliffs. Their goal wasn't the adventure, it was -- and remains -- to raise 100,000 pounds for
Action Medical Research
's Touching Tiny Lives campaign, for which Glover is an ambassador.
The campaign partly involves lobbying the UK government to double its funding by 2007 for research into preventing premature births and pregnancy complications. As part of the campaign, Action Medical Research also is "committed" to
raising 3 million pounds to invest in medical research
.
Naturally when Fry isn't trekking through the jungles of Venezuela for a good cause, he's singing. He'll soon appear on BBC1's program "Just The Two Of Us", singing duets with Gaby Roslin, along with other singer/celebrity couples (I've never heard of Gaby Roslin. I think it's because I'm an American). The public will select the winners, which means there must also be losers. It sounds vicious, really. However, on the upside, it's hosted by "the UK's most glamorous celebrity couple - Vernon Kay [sic] and Tess Daly."
He
hosted, "Hit Me Baby One More Time", which forced me to confront the cold hard truth that Animotion doesn't sing particularly well anymore, if they ever really could, whereas I've never heard of her. Their chief skill being glamour, nothing else about them matters much. They need only dazzle UK viewers with their combined wow factor!
The program tapes in London March 2nd, 3rd, 4th, and 5th, and
tickets may be requested online
.
ABC - Be Near Me
(from
Look of Love: The Very Best of ABC
)
ABC - Vanity Kills
(from
Look of Love: The Very Best of ABC
)